Transit Insurance Notes—WEAR AND TEAR
14th October 1938
Page 37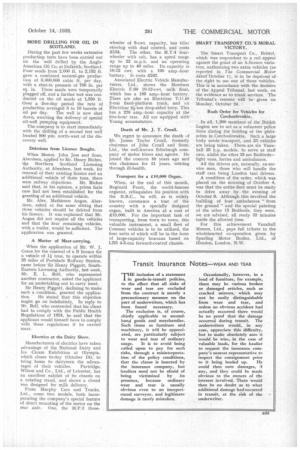 Page 37, 14th October 1938 —
Transit Insurance Notes—WEAR AND TEAR
Close
inclusion of a statement Tr goods-in-transit policies, to the effect that all risks of wear and tear are excluded from the contract is merely a precautionary measure on the part of underwriters, which has been found necessary.
The exclusion is, of course, chiefly applicable to secondhand goods and merchandise. Such items as furniture and machinery, it will be appreciated, are particularly subject to wear and tear of ordinary
usage. It is to avoid being called upon to pay for such risks, through a misinterpretation of the policy conditions, that the clause is inserted by the insurance company, but hauliers need not be afraid of being victimized by its presence, because ordinary wear and tear is usually obvious even to an inexperienced surveyor, and legitimate damage is rarely mistaken. Occasionally, however, in a load of furniture, for example, there may be various broken or damaged articles, such as cracked mirrors, which may not be easily distinguishable from wear and tear, and unless an obvious accident had actually occurred there would be no proof that the damage occurred during transit. The underwriters would, in any case, appreciate this difficulty, but to make absolutely sure it would be wise, in the case of valuable loads, for the haulier to request the insurance company's nearest representative to inspect the consignment prior to it being loaded up. He could then note damages, 4 any, and they could be made obvious to the owners of the interest involved. There would then be no doubt as to what additional damage had occurred in transit, at the risk of the underwriter.