One Hears
14th October 1938
Page 35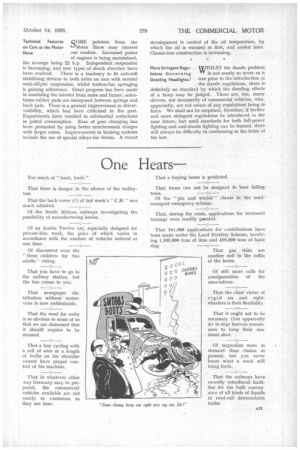 Page 35, 14th October 1938 —
One Hears
Close
Too much of "hush, hush."
That there is danger in the silence of the trolleybus.
That the back cover (?) of last week's "C.M." was much admired.
Of the South African railways investigating the possibility of manufacturing lorries.
Of an Austin Twelve car, especially designed for private-hire work, the price of which varies in accordance with the number of vehicles ordered at one time.
Of discontent over the "three children for two adults" ruling.
That you have to go to the railway station, but the bus comes to you.
That newspaper distribution without motorvans is now unthinkable. 0 That the need for unity is so obvious to some of us that we are distressed that it should require to be stressed.
That a boy cycling with a roll of wire or a length of trellis on his shoulder cannot have proper control of his machine
That in whatever other way Germany may be prepared, the commercial vehicles available are not nearly so numerous as they are here. That a buying boom is predicted.
That buses can not be designed to bear falling trees.
Of the " pin and winkle" clause in the roadtransport emergency scheme.
That, during the crisis, applications for increased tonnage were readily granted.
That 241,000 applications for contributions have been made under the Land Fertility Scheme, involving 1,535,000 tons of lime and 459,000 tons of basic slag.
That gas risks are another nail in the coffin of the horse.
Of still more calls for amalgamation of the associations.
That the chief virtue of rigid six and eightwheelers is their flexibility.
That it ought not to be necessary (but apparently is) to 'Lille boxvan roundsmen to keep their rear doors shut.
Of tarpaulins more in demand than chains at present, but you never know what a week will bring forth.
That the railways have recently introduced facilities for the bulk conveyance of all kinds of liquids in road-rail demountable tanks.