Passing Comments
14th October 1938
Page 34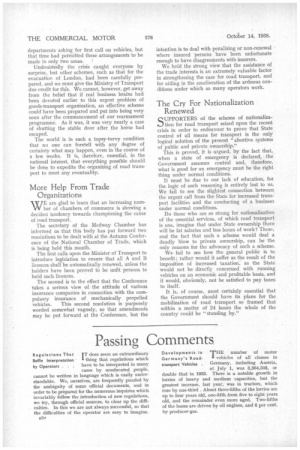 Page 35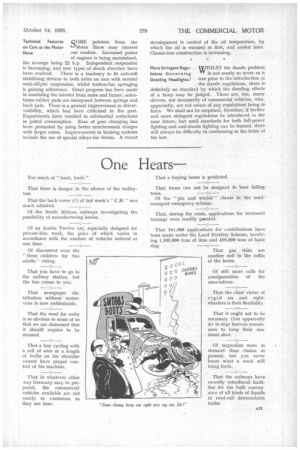 Page 34, 14th October 1938 —
Passing Comments
Close
Regulations That IT does seem an extraordinary Baffle Interpretation thing that regulations which by Operators . . have to be interpreted in many
cases by uneducated people, cannot he written in language which is easily understandable. We, ourselves, are frequently puzzled by the ambiguity of some official documents, and in order to be prepared for the numerous inquiries which invariably follow the introduction of new regulations, we try, through official sources, to clear up the difficulties. In this we are not always successful, so that the difficulties of the operator are easy to imagine.
a'20
Developments in THE number of motor
Germany's Road/ vehicles of all classes in transport Vehicles . Germany, including Austria, at July 1, was 3,364,503, or double that in 1933. There is a notable growth in lorries of heavy and medium capacities, but the greatest increase, last year, was in tractors, which rose by one-third . About three-fifths of the lorries are up to four years old, one-fifth from five to eight years old, and the remainder even more aged. Two-fifths of the buses are driven by oil engines, and 6 per cent. by producer-gas.
Technical Features gomE pointers from the on Cars at the Motor 1.-/Motor Show may interest
S how our readers. Increased power
of engines is being maintained, the average being 22 h.p. Independent suspension is increasing, and new types of shock absorber have been evolved. There is a tendency to fit anti-roll stabilizing devices to both axles on cars with normal semi-elliptic suspension, whilst torsion-bar springing is gaining adherence. Great progress has been made in insulating the interior from noise and fumes ; sometimes rubber pads are interposed between springs and back axle. There is a general improvement in drivervisibility, which had been criticized in the past. Experiments have resulted in substantial reductions in petrol consumption. Ease of gear changing has been promoted by using better synchromesh designs with larger cones. Improvements in braking systems include the use of special alloys for drums. A recent
development is control of the oil temperature, by which the oil is warmed at first, and cooled later. Chassis-less construction is increasing.
More Stringent ReguWHILST the dazzle problem lations Governing VY is not nearly so acute as it Dazzling Headlights? was prior to the introduction of the dazzle regulations, there is definitely no standard by which the dazzling effects of a lamp may be judged. There are, too, many drivers, not necessarily of commercial vehicles, who, apparently, are not aware of any regulations being in force. We shall not be surprised, therefore, if further and more stringent regulations be introduced in the near future, but until standards for both full-power lighting and anti-dazzle lighting can be framed, there will always be difficulty in conforming to the letter of the law.