Report on the Dartford Tunnel
14th May 1965
Page 40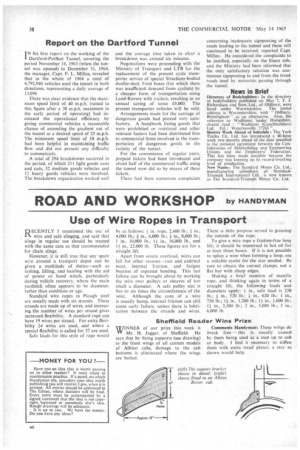 Page 40, 14th May 1965 —
Report on the Dartford Tunnel
Close
I N his first report on the working of the Dartford-Purfleet Tunnel, covering the period November 18, 1963 (when the tunnel was opened) to December 31, 1964, the manager, Capt. F. L. Mains, revealed that in the whole of 1964 a total of 4,792.940 vehicles used the tunnel in both directions. representing a daily average of 13.096 There was clear evidence that the maximum speed limit of 40 m.p.h. (raised to this figure after a 30 m.p.h. maximum in the early period of operating) had increased the operational efficiency by giving commercial vehicles a reasonable chance of ascending the gradient out of the tunnel at a desired speed of 25 m.p.h. The minimum speed limit of 10 M.p.h. had been helpful in maintaining traffic flow and did not present any difficulty to commercials.
A total of 294 breakdowns occurred in the period, of which 211 light goods vans and cars, 32 medium goods vehicles and 12 heavy goods vehicles were involved. The breakdown organization worked well
and the average time taken to clear a breakdown, was around six minutes.
Negotiations were proceeding with the Ministry of Transport and LTB for the replacement of the present cycle transporter service of special Strachans-bodied double-deck Ford buses (for which there was insufficierft demand from cyclists) by a cheaper form of transportation using Land-Rovers with trailers, resulting in an annual saving of some 0,000. The present transporter vehicles will be sold.
Arrangements made for the carriage of dangerous goods had proved very satisfactory. A handbook listing goods that were prohibited or restricted and other relevant factors had been distributed free to commercial firms involved in the transportation of dangerous goods in the vicinity of the tunnel.
For the convenience of regular users, prepaid tickets had been introduced and about half of the commercial traffic using the tunnel now did so by means of these tickets.
There had been numerous complaints concerning inadequate signposting of the roads leading to the tunnel and these still continued to be received, reported Capt. Millns. He considered the complaints to be justified, especially on the Essex side, and the Ministry had been informed that the only satisfactory solution was continuous signposting to and from the trunk roads used by motorists passing through the tunnel.