Dumpy relief unti11994
14th March 1991
Page 8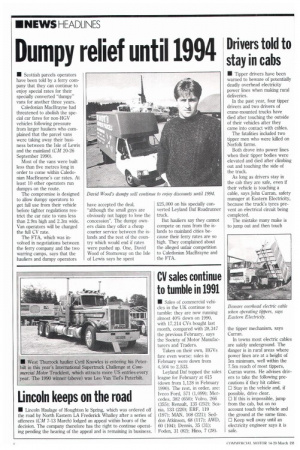 Page 8, 14th March 1991 —
Dumpy relief unti11994
Close
• Scottish parcels operators have been told by a ferry company that they can continue to enjoy special rates for their specially converted "dumpy" vans for another three years.
Caledonian MacBrayne had threatened to abolish the special car fares for non-HGV vehicles following pressure from larger hauliers who complained that the parcel vans were taking away their business between the Isle of Lewis and the mainland (CM 20-26 September 1990).
Most of the vans were built less than five metres long in order to come within Caledonian MacBray-ne's car rates. At least 10 other operators run dumpys on the route.
The compromise is designed to allow dumpy operators to get full use from their vehicle before tighter regulations restrict the car rate to vans less than 2.9m high and 2.3m wide. Van operators will be charged the full CV rate.
The FTA, which was involved in negotiations between the ferry company and the two warring camps, says that the hauliers and dumpy operators have accepted the deal, "although the small guys are obviously not happy to lose the concession". The dumpy owners claim they offer a cheap courier service between the islands and the rest of the country which would end if rates were pushed up. One, David Wood of Stornoway on the Isle of Lewis says he spent 225,000 on his specially converted Leyland Daf Roadrunner truck.
But hauliers say they cannot compete on runs from the islands to mainland cities because their ferry rates are so high. They complained about the alleged unfair competition to Caledonian MacBrayne and the FTA.