'EDITOR'S COMMENT
14th March 1991
Page 5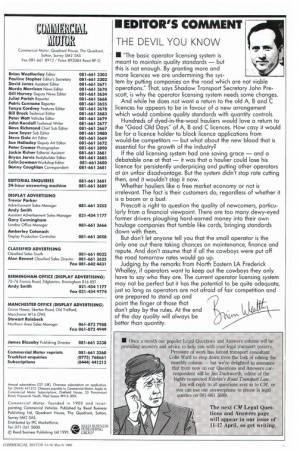 Page 5, 14th March 1991 —
'EDITOR'S COMMENT
Close
• "The basic operator licensing system is meant to maintain quality standards — but this is not enough. By granting more and more licences we are undermining the system by putting companies on the road which are not viable operations." That, says Shadow Transport Secretary John Prescott, is why the operator licensing system needs some changes. And while he does not want a return to the old A, B and C licences he appears to be in favour of a new arrangement which would combine quality standards with quantity controls.
Hundreds of dyed-in-the-wool hauliers would love a return to the "Good Old Days" of A, B and C licences. How cosy it would be for a licence holder to block licence applications from would-be competitors — but what about the new blood that is essential for the growth of the industry?
If the old licensing system had one saving grace — and a debatable one at that — it was that a haulier could lose his licence for persistently underpricing and putting other operators at an unfair disadvantage. But the system didn't stop rate cutting then, and it wouldn't stop it now.
Whether hauliers like a free market economy or not is irrelevant. The fact is their customers do, regardless of whether it is a boom or a bust.
Prescott is right to question the quality of newcomers, particularly from a financial viewpoint. There are too many dewy-eyed former drivers ploughing hard-earned money into their own haulage companies that tumble like cards, bringing standards down with them.
But don't let anyone tell you that the small operator is the only one out there taking chances on maintenance, finance and repute. And don't assume that if all the cowboys were put off the road tomorrow rates would go up.
Judging by the remarks from North Eastern LA Frederick Whalley, if operators want to keep out the cowboys they only have to say who they are. The current operator licensing system may not be perfect but it has the potential to be quite adequate, just so long as operators are not afraid of fair competition and are prepared to stand up and point the finger at those that don't play by the rules. At the end of the day quality will always be better than quantity.