CHINA SYNDROME
14th March 1991
Page 46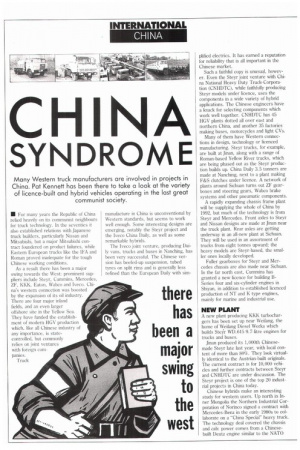 Page 47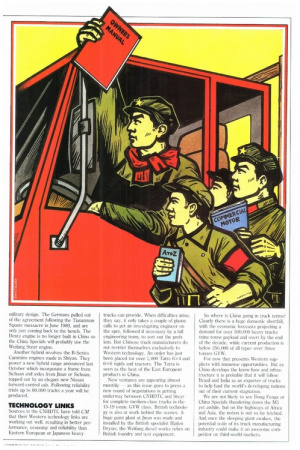 Page 46, 14th March 1991 —
CHINA SYNDROME
Close
• For many years the Republic of China relied heavily on its communist neighbours for truck technology. In the seventies it also established relations with Japanese truck builders, particularly Nissan and Mitsubishi, but a major Mitsubishi contract foundered on product failures, while Eastern European trucks like the IFA and Roman proved inadequate for the tough Chinese working conditions.
As a result there has been a major swing towards the West: prominent suppliers include Steyr, Cummins, Mercedes. ZF, KKK, Eaton, Wabco and Iveco. Chi na's western connection was boosted by the expansion of its oil industry. There are four major inland fields. and an even larger offshore site in the Yellow Sea. They have funded the establishment of modern HGV production which, like all Chinese industry of any importance, is statecontrolled, but commonly relies on joint ventures with foreign companies.
Truck manufacture in China is unconventional by Western standards, but seems to work well enough. Some interesting designs are emerging, notably the Steyr project and the lveco China Daily, as well as some remarkable hybrids.
The lveco joint venture, producing Daily vans, trucks and buses in Nanching, has been very successful. The Chinese version has beefed-up suspension, tubed tyres on split rims and is generally less refined than the European Daily with sim plified electrics. It has earned a reputation for reliability that is all important in the Chinese market.
Such a faithful copy is unusual, however. Even the Steyr joint venture with China National Heavy Duty Truck.Corporation (CNHDTC), while faithfully producing Steyr models under licence, uses the components in a wide variety of hybrid applications. The Chinese engineers have a knack for selecting components which work well together. CNHDTC has 45 HGV plants dotted all over east and riorthern China, and another 35 factories making buses, motorcycles and light CVs.
Many of them have Western connections in design, technology or licenced manufacturing. Steyr trucks, for example, are built at Jinan, along with a range of Roman-based Yellow River trucks, which are being phased out as the Steyr production builds up. China Daily 3.5 tonners are made at Nanching, next to a plant making F&S clutches under licence. A network of plants around Sichuan turns out ZF gearboxes and steering gears, Wabco brake systems and other pneumatic components.
A rapidly expanding chassis frame plant will be supplying the whole of China by 1992, but much of the technology is from Steyr and Mercedes. Front axles to Steyr and Nissan designs are made at Jinan near the truck plant. Rear axles are getting underway in an all-new plant at Sichuan. They will be used in an assortment of trucks from eight tonnes upward; the heavy models are Steyr-based, the smaller ones locally developed.
Fuller gearboxes for Steyr and Mercedes chassis are also made near Sichuan. In the far north east, Cummins has granted a new licence for building 13Series four and six-cylinder engines in Shiyan, in addition to established licenced production of NT and K type engines, mainly for marine and industrial use.
NEW PLANT
A new plant producing KKK turbochargers has been set up near W'eifang, the home of Weifang Diesel Works which builds Ster WD.615 9.7-litre engines for trucks and buses.
Jinan produced its 1,000th Chinesemade Steyr late last year, with local content of more than 80%. They look virtually identical to the Austrian-built originals. The current contract is for 10,000 vehicles and further contracts between Steyr and CNHDTC are under discussion. The Steyr project is one of the top 20 industrial projects in China today.
Chinese hybrids make an interesting study for western users. Up north in Inner Mongolia the Northern Industrial Corporation of Norinco signed a contract with Mercedes-Benz in the early 1980s to collaborate on a "China Special" heavy truck. The technology deal covered the chassis and cab: power comes from a Chinesebuilt Deutz engine similar to the NATO military design. The Germans pulled out of the agreement following the Tiananman Square massacre in June 1989, and are only just coming back to the bench. The Deutz engine is no longer built in China so the China Specials will probably use the Weifang Steyr engine.
Another hybrid involves the B-Series Cummins engines made in Shiyan. They power a new hybrid range announced last October which incorporate a frame from Sichuan and axles from Jinan or Sichuan, topped out by an elegant new Nissan forward-control cab. Following reliability trials up to 60,000 trucks a year will be produced.
TECHNOLOGY LINKS
Sources in the CNHD'It have told CM that their Western technology links are working out well, resulting in better performance, economy and reliability than Eastern European or Japanese heavy
trucks can provide. When difficulties arise, they say, it only takes a couple of phone calls to get an investigating engineer on the spot, followed if necessary by a full engineering team, to sort out the problem. But Chinese truck manufacturers do not restrict themselves exclusively to Western technology. An order has just been placed for over 1,000 Tatra 6x4 and 6x6 rigids and tractors. The Tatra is seen as the best of the East European products in China.
New ventures are appearing almost monthly — as this issue goes to press a new round of negotiations is getting underway between CNHDTC and Steyr for complete medium-class trucks in the 15-19 tonne GVW class. British technology is also at work behind the scenes. A huge paint plant at Jinan was made and installed by the British specialist Haden Drysis; the Weifang diesel works relies on British foundry and test equipment. So where is China going in truck terms? Clearly there is a huge domestic shortfall, with the economic forecasts projecting a demand for over 500,000 heavy trucks (nine-tonne payload and over) by the end of the decade, while current production is below 250,000 of all types over three tonnes GVW.
For now that presents Western suppliers with immense opportunities. But as China develops the know-how and infrastructure it is probable that it will follow Brazil and India as an exporter of trucks to help haul the world's developing nations out of their current stagnation.
We are not likely to see Dong Fengs or China Specials thundering down the M1 yet awhile, but on the highways of Africa and Asia, the notion is not so far fetched. And once the sleeping giant awakes, the potential scale of its truck manufacturing industry could make it an awesome competitor on third-world markets.