Qtype comes to the mainland
14th March 1991
Page 22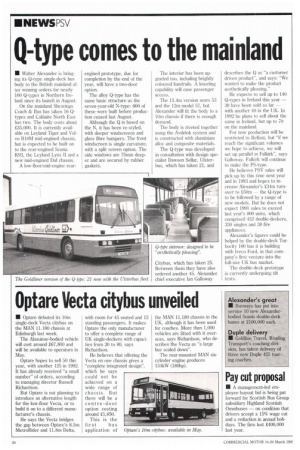 Page 22, 14th March 1991 —
Qtype comes to the mainland
Close
• Walter Alexander is bringing its Q-type single-deck bus body to the British mainland after winning orders for nearly 100 Q-types in Northern Ireland since its launch in August.
On the mainland Shearings Coach & Bus has taken 16 Qtypes and Caldaire North East has two. The body costs about £35,00(1 It is currently available on Leyland Tiger and Volvo BlOM mid-engined chassis, but is expected to be built on to the rear-engined Scania K93, the Leyland Lynx II and a new mid-engined Daf chassis.
A low-floor/mid-engine rear engined prototype, due for completion by the end of the year, will have a two-door option.
The alloy Q-type has the same basic structure as the seven-year-old N-type: 600 of these were built before production ceased last August.
Although the Q is based on the N, it has been re-styled, with deeper windscreens and glass fibre bumpers. The front windscreen is single curvature, with a split screen option. The side windows are 75mm deeper and are secured by rubber gaskets. The interior has been upgraded too, including brightly coloured handrails. A kneeling capability will ease passenger access.
The 11.4m version seats 53 and the 12m model 57, but Alexander will fit the body to a 10m chassis if there is enough demand.
The body is riveted together using the Avdelok system and is constructed with aluminium alloy and composite materials.
The Q-type was developed in consultation with design specialist Dawson Sellar, Ulsterbus, which has taken 21, and Citybus, which has taken 25. Between them they have also ordered another 45. Alexander chief executive Ian Galloway describes the Q as "a customer driven product", and says: "We wanted to make the product aesthetically pleasing."
He expects to sell up to 140 Q-types in Ireland this year — 30 have been sold so far with another 40 in the UK. In 1992 he plans to sell about the same in Ireland, but up to 70 on the mainland.
For now production will be restricted to Belfast, but "if we reach the significant volumes we hope to achieve, we will set up parallel in Falkirk", says Galloway. Falkirk will continue to make the PS-type.
He believes PSV sales will pick up by this time next year and in 1993 and hopes to increase Alexander's £34m turnover to E50m -the Q-type is to be followed by a range of new models. But he does not expect 1991 sales to exceed last year's 800 units, which comprised 432 double-deckers, 330 singles and 38 fire appliances.
Alexander's figures could be helped by the double-deck -Furbocity 100 bus it is building with Iveco Ford, in that company's first venture into the full-size UK bus market.
The double-deck prototype is currently undergoing tilt tests.