Representations rejected
14th March 1991
Page 21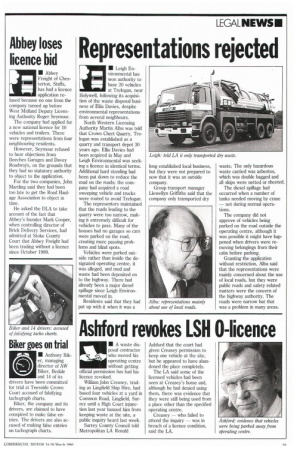 Page 21, 14th March 1991 —
Representations rejected
Close
• Leigh Environmental has won authority to base 20 vehicles
at Trelogan, near Holywell, following its acquisition of the waste disposal business of Ellis Davies, despite environmental representations from several neighbours.
North Western Licensing Authority Martin Albu was told that Crown Chert Quarry, Trelogan was established as a quarry and transport depot 30 years ago. Ellis Davies had been acquired in May and Leigh Environmental was seeking a licence in identical terms. Additional hard standing had been put down to reduce the mud on the roads; the company had acquired a road sweeping vehicle and trucks were routed to avoid Trelogan.
The representors maintained that the roads leading to the quarry were too narrow, making it extremely difficult for vehicles to pass. Many of the houses had no garages so cars were parked on the road, creating more passing problems and blind spots.
Vehicles were parked outside rather than inside the designated operating centre, it was alleged, and mud and waste had been deposited on to the highway. There had already been a major diesel spillage since Leigh Environmental moved in.
Residents said that they had put up with it when it was a long established local business, but they were not prepared to now that it was an outside company.
Group transport manager Llewellyn Griffiths said that the company only transported dry waste. The only hazardous waste carried was asbestos, which was double bagged and all skips were netted or sheeted.
The diesel spillage had occurred when a number of tanks needed moving by crane — not during normal operations.
The company did not approve of vehicles being parked on the road outside the operating centre, although it was possible it might have happened when drivers were removing belongings from their cabs before parking.
Granting the application without restriction, Albu said that the representations were mainly concerned about the use of local roads, but they were public roads and safety related matters were the concern of the highway authority. The roads were narrow but that was a problem in many areas.