JDG boss bounces back
14th March 1991
Page 14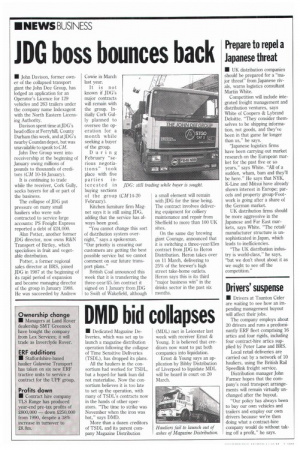 Page 14, 14th March 1991 —
JDG boss bounces back
Close
• John Davison, former owner of the collapsed transport giant the John Dee Group, has lodged an application for an Operator's Licence for 129 vehicles and 263 trailers under the company name Indexagent with the North Eastern Licensing Authority.
Davison spent time atJDG's head office at Ferryhill, County Durham this week, and atJDG's nearby Coundan depot, but was unavailable to speak to CM.
John Dee Group went into receivership at the beginning of January owing millions of pounds to thousands of creditors (CM 10-16 January).
It is continuing to trade while the receiver, Cork Gully, seeks buyers for all or part of the business.
The collapse of JDG put pressure on many small hauliers who were subcontracted to service large accounts: PS Freight Express reported a debt of .224,000.
Alan Potter, another former JDG director, now owns R&N Transport of Birtley, which specialises in fruit and vegetable distribution.
Potter, a former regional sales director at BRS, joined JDG in 1987 at the beginning of its rapid period of expansion and became managing director of the group in January 1988. He was succeeded by Andrew Cowie in March last year.
It is not known if JDG's major contracts will remain with the group. Initially Cork Gully planned to oversee the operation for a month while seeking a buyer of the group.
During February "serious negotiations" took place with five
parties interested in buying sections of the group (CM14-20 February).
Kitchen furniture firm Magnet says it is still using JDG, adding that the service has always been good.
"You cannot change this sort of distribution system overnight," says a spokesman. "Our priority is ensuring our customers are getting the best possible service but we cannot comment on our future transport plans."
British Coal announced this week that it is transferring the three-year/£5.5m contract it signed on 1 January from JDG to Swift of Wakefield, although a small element will remain with JDG for the time being. The contract involves delivering equipment for colliery maintenance and repair from Sheffield to more than 100 UK sites.
On the same day brewing giant Courage, announced that it is switching a three-year/5m contract from JDG to Heron Distribution. Heron takes over on 11 March, delivering to 25% of the brewer's high street take-home outlets. Heron says this is its third "major business win" in the drinks sector in the past six months.