More Mercedes models
14th March 1991
Page 13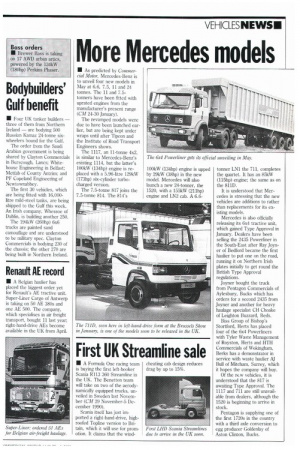 Page 13, 14th March 1991 —
More Mercedes models
Close
• As predicted by Commercial Motor, Mercedes-Benz is to unveil four new models in May at 6.6, 7.5, 11 and 24 tonnes. The 11 and 7.5tonners have been fitted with uprated engines from the manufacturer's present range (CM 24-30 January).
The revamped models were due to have been launched earlier, but are being kept under wraps until after Tipcon and the Institute of Road Transport Engineers shows.
The 1117, an 11-tonne 4x2, is similar to Mercedes-Benz's existing 1114, but the latter's 100kW (134hp) engine is replaced with a 5.96-litre 129kW (173hp) six-cylinder turbocharged version.
The 7.5-tonne 817 joins the 7.5-tonne 814. The 814's 100kW (134hp) engine is upped by 29kW (38hp) in the new model. Mercedes will also launch a new 24-tonner, the 1520, with a 155kW (211hp) engine and LN2 cab. A 6.6 tonner LN1 the 711, completes the quartet. It has an 85kW (115hp) engine; the same as on the 811D.
It is understood that Mercedes is stressing that the new vehicles are additions to rather than replacements for its existing models.
Mercedes is also officially releasing its 6x4 tractive unit, which gained Type Approval in January. Dealers have been selling the 2435 Powerliner in the South-East after Ray Joyner of Bedford became the first haulier to put one on the road, running it on Northern Irish plates initially to get round the British Type Approval regulations.
Joyner bought the truck from Pentagon Commercials of Aylesbury, Bucks which has orders for a second 2435 from Joyner and another for heavy haulage specialist CH Choake of Leighton Buzzard, Beds.
Biss Group of Bishop's Stortford, Herts has placed four of the 6x4 Powerliners with Tyler Waste Management of Royston, Herts and HTH Commercials of Wokingham, Berks has a demonstrator in service with waste haulier AJ Bull of Mitcham, Surrey, which it hopes the company will buy.
Of the ncw vehicles, it is understood that the 817 is awaiting Type Approval. The 1117 and 711 are still unavailable from dealers, although the 1520 is beginning to arrive in stock.
Pentagon is supplying one of the first 1720s in the country with a third axle conversion to egg producer Goldenlay of Aston Clinton, Bucks.