Leyland's on top
14th March 1987
Page 8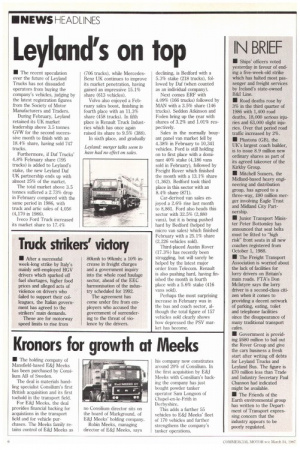 Page 8, 14th March 1987 —
Leyland's on top
Close
Keywords :
British Leyland
,
Paccar
,
Car Manufacturers
,
Daf Trucks
,
Leyland Trucks
,
Leyland Daf
,
Freight Rover
,
Austin Rover Group
,
Truck
,
Ford Motor Company
,
Vans
,
Renault
,
Business / Finance
• The recent speculation over the future of Leyland Trucks has not dissuaded operators from buying the company's vehicles, judging by the latest registration figures from the Society of Motor Manufacturers and Traders.
During February, Leyland retained its UK market leadership above 3.5 tonnes GVW for the second successive month to finish with an 18.4% share, having sold 747 trucks.
Furthermore, if Daf Trucks' 4.8% February share (195 trucks) is added to Leyland's stake, the new Leyland Daf UK partnership ends up with almost 25% of the market.
The total market above 3.5 tonnes suffered a 2.73% drop in February compared with the same period in 1986, with truck and artic sales of 4,056 (4,170 in 1986).
lveco Ford Truck increased its market share to 17.4% (706 trucks), while MercedesBenz UK continues to improve its market penetration, having gained an impressive 15.1% share (613 vehicles).
Volvo also enjoyed a February sales boost, finishing in fourth place with an 11.3% share (458 trucks). In fifth place is Renault Truck Industries which has once again raised its share to 9.5% (388).
In sixth place, and gradually declining, is Bedford with a 5.3% stake (218 trucks), followed by Daf (when counted as an individual company).
Next comes ERF with 4.09% (166 trucks) followed by MAN with a 3.5% share (146 trucks). Seddon Atkinson and Foden bring up the rear with shares of 3.2% and 1.01% respectively.
Sales in the normally bouyant panel van market fell by 4.38% in February to 10,341 vehicles. Ford is still holding on to first place with a dominant 40% stake (4,186 vans sold in February), followed by Freight Rover which finished the month with a 13.1% share (1,362). Bedford took third place in this sector with an 8.4% share (871).
Car-derived van sales enjoyed a 2.6% rise last month to 8,861. Ford also heads this sector with 32.5% (2,880 vans), but it is being pushed hard by Bedford (helped by micro van sales) Which finished February with a 25.1% share (2,226 vehicles sold).
Third-placed Austin Rover (17.3%) has recently been struggling, but will surely be helped by the latest major order from Telecom. Renault is also pushing hard, having finished the month in fourth place with a 5.6% stake (416 vans sold).
Perhaps the most surprising increase in February was in die bus and coach sector, although the total figure of 157 vehicles sold clearly shows how depressed the PSV market has become.