Industry mourns ferry drivers
14th March 1987
Page 7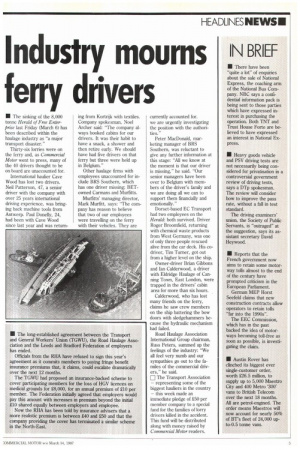 Page 7, 14th March 1987 —
Industry mourns ferry drivers
Close
• The sinking of the 8,000 tonne Herald of Free Enterprise last Friday (March 6) has been described within the haulage industry as "a major transport disaster."
Thirty-six lorries were on the ferry and, as Commercial Motor went to press, many of the 40 drivers thought to be on board are unaccounted for.
International haulier Cave Wood has lost two drivers. Neil Patterson, 47, a senior driver with the company with over 25 years international driving experience, was bringing back machine tools from Antwerp. Paul Donelly, 24, had been with Cave Wood since last var and was return
ing from Kortrijk with textiles. Company spokesman, Noel Archer said: "The company always booked cabins for our drivers. It was their habit to have a snack, a shower and then retire early. We should have had five drivers on that ferry but three were held up in Belgium."
Other haulage firms with employees unaccounted for include BRS Southern, which has one driver missing; BETowned Cannans and Murfitts.
Murfitts' managing director, Mark Murfitt, says: "The company has reason to believe that two of our employees were travelling on the ferry with their vehicles. They are currently accounted for. we are urgently investigating the position with the authorities."
Peter MacDonald, marketing manager of BRS Southern, was reluctant to give any further information at this stage: "All we know at the moment is that our driver is missing," he said. "Our senior managers have been over to Belgium with members of the driver's family and we are doing all we can to support them financially and emotionally."
Dorset-based EC Transport had two employees on the Herald: both survived. Driver Roger Broomfield, returning with chemical waste products from West Germany, was one of only three people rescued alive from the car deck. His codriver, Tim Turner, got out from a higher level on the ship.
Owner-driver Brian Gibbons and Ian Calderwood, a driver with Eldridge Haulage of Canning Town, East London, were trapped in the drivers' cabin area for more than six hours.
Calderwood, who has lost many friends on the ferry, claims he saw crew members on the ship battering the bow doors with sledgehammers because the hydraulic mechanism had failed.
Road Haulage Association International Group chairman, Russ Peters, summed up the feelings of the industry: "We all feel very numb and our sympathies go out to the familes of the commercial drivers," he said.
El The Transport Association — representing some of the biggest hauliers in the country
— this week made an immediate pledge of £50 per member company to a special fund for the families of lorry drivers killed in the accident. This fund will be distributed along with money raised by Commercial Motor readers.