IN BRIEF
14th March 1987
Page 7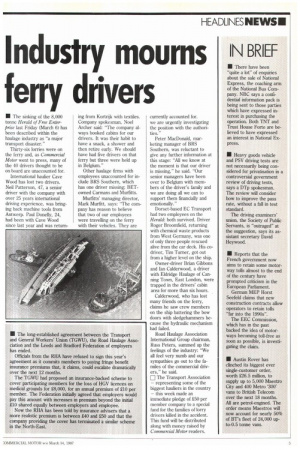 Page 7, 14th March 1987 —
IN BRIEF
Close
• There have been "quite a lot" of enquiries about the sale of National Express, the coaching arm of the National Bus Company. NBC says a confidential information pack is being sent to those parties which have expressed interest in purchasing the operation. Both TNT and Trust House Forte are believed to have expressed an interest in National Express.
• Heavy goods vehicle and PSV driving tests are not necessarily being considered for privatisation in a controversial government review of driving tests, says a DTp spokesman. The review will consider how to improve the pass rate, without a fall in test standard.
The driving examiners' union, the Society of Public Servants, is "outraged" at the suggestion, says its assistant secretary David Heywood.
• Reports that the French government now aims to retain some motorway tolls almost to the end of the century have prompted criticism in the European Parliament.
Gennan MEP Horst Seefeld claims that new construction contracts allow operators to retain tolls "far into the 1g90s".
The EEC Commission, which has in the past backed the idea of motorways becoming toll-free as soon as possible, is investigating the claim.
• Austin Rover has clinched its biggest ever single-customer order, worth £26.5 million, to supply up to 5,000 Maestro City and 400 Metro '300' vans to British Telecom over the next 18 months. All are petrol-engined. The order means Maestros will now account for nearly 50% of BT's fleet of 24,000 upto-0.5 tonne vans.