Intercepted!
14th March 1987
Page 6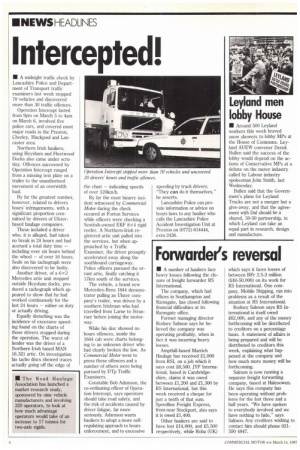 Page 6, 14th March 1987 —
Intercepted!
Close
Ili A midnight traffic check by Lancashire Police and Department of Transport traffic examiners last week stopped 70 vehicles and discovered more than 30 traffic offences.
Operation Intercept lasted from 9pm on March 5 to 4am on March 6, involved five police cars, and covered most major roads in the Preston, Charley, Blackpool and Lancaster area.
Northern Irish hauliers, using Heysham and Fleetwood Docks also came under scrutiny. Offences uncovered by Operation Intercept ranged from a missing test plate on a trailer to the unauthorised movement of an overwidth load.
By far the greatest number, however, related to drivers hours' infringements, with a significant proportion committed by drivers of Ulsterbased haulage companies.
These included a driver who, it is alleged, had taken no break in 24 hours and had accrued a total duty time — including over six hours behind the wheel — of over 16 hours. Seals on his tachograph were also discovered to be faulty.
Another driver, of a 6x2 Mercedes artic unit stopped outside Heysham docks, produced a tachograph which appeared to show that he had worked continuously for the last 24 hours — either on duty or actually driving.
Equally disturbing was the incidence of excessive speeding found on the charts of those drivers stopped during the operation. The worst offender was the driver of a Northern-Irish based MAN 16.321 artic. On investigation his tacho discs showed traces actually going off the edge of the chart — indicating speeds of over 120Icm/h.
By far the most bizarre incident witnessed by Commercial Motor during the check occured at Forton Services while officers were checking a Scottish-owned ERF 8x4 rigid reefer. A Northern-Irish registered artic unit pulled into the services, but when approached by a Traffic Examiner, the driver promptly accelerated away along the southbound carriageway. Police officers pursued the errant artic, finally catching it 17km south of the services.
The vehicle, a brand new Mercedes-Benz 1644 demonstrator pulling an Ulster company's trailer, was driven by a southern Irishman who had travelled from Lame to Stranraer before joining the motorway.
While his disc showed no hours offences, inside the 1644 cab were charts belonging to an unknown driver who had clearly broken the law. As Commercial Motor went to press these offences and a number of others were being pursued by DTp Traffic Examiners.
Constable Bob Adamson, the co-ordinating officer of Operation Intercept, says operators should take road safety, and the risk of accidents caused by driver fatigue, far more seriously. Adamson wants hauliers to adopt a more selfregulating approach to hours enforcement, and to excessive
speeding by truck drivers. They can do it themselves," he asserts.
Lancashire Police can provide information or advice on hours laws to any haulier who calls the Lancashire Police Accident Investigation Unit at Preston on (0772) 614444, extn 2436.