Forwarder's reversal
14th March 1987
Page 6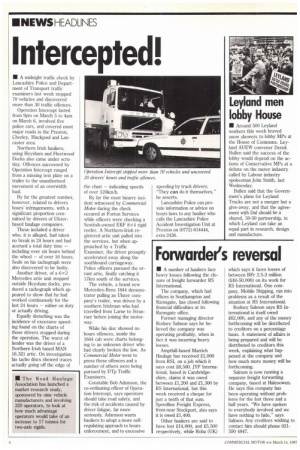 Page 6, 14th March 1987 —
Forwarder's reversal
Close
• A number of hauliers face heavy losses following the closure of freight forwarder RS International.
The company, which had offices in Southampton and Ramsgate, has closed following financial difficulties at its Ramsgate office.
Former managing director Rodney Salmon says he believed the company was operating profitably, when in fact it was incurring heavy losses.
Ampthill-based Marrich Haulage has received £1,000 from RS1, on a job which it says cost £8,500. JYP International, based in Cambridgeshire, claims it was owed between £1,200 and .21,300 by RS International, but this week received a cheque for just a tenth of that sum. Speedline Freight Express, from near Stockport, also says it is owed £1,400.
Other hauliers are said to have lost £14,000, and £5,500 respectively, while Roba (UK) which says it faces losses of between BEr 2.5-3 million (240-50,000) on its work for RS International. One company, Mobile Shipping, ran into problems as a result of the situation at RS International.
Rodney Salmon says RS International is itself owed 62,000, and any of the money forthcoming will be distributed to creditors on a percentage basis. A statement of affairs is being prepared and will be distributed to creditors this week, explaining what happened at the company and how much more money will be forthcoming.
Salmon is now running a separate freight forwarding company, based at Halesowen. He says this company has been operating without problems for the last three and a half years. "We have spoken to everybody involved and we have nothing to hide," says Salmon. Any creditors wishing to contact him should phone 021550 4847.