LEADING FROM THE FRONT
14th March 1987
Page 50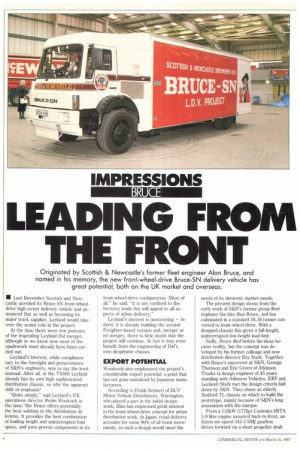 Page 51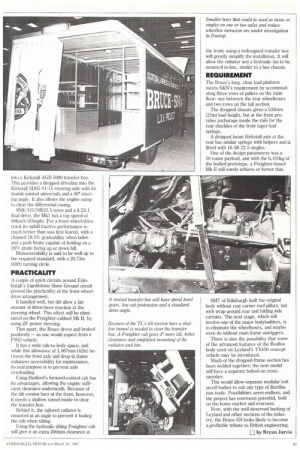 Page 50, 14th March 1987 —
LEADING FROM THE FRONT
Close
Originated by Scottish & Newcastle's former fleet engineer Alan Bruce, and named in his memory, the new front-wheel-drive Bruce-SN delivery vehicle has great potential, both on the UK market and overseas.
• Last December Scottish and Newcastle unveiled its Bruce-SN front-wheeldrive high street delivery vehicle and announced that as well as becoming its major truck supplier, Leyland would take over the senior role in the project.
At the time there were few portents of the impending Leyland Dal merger, although as we know now most of the spadework must already have been carried out.
Leyland's interest, while complimentary to the foresight and perseverence of S&N's engineers, was to say the least unusual. After all, in the TX450 Leyland already has its own high sophisticated distribution chassis, so why the apparent shift of emphasis?
"Quite simply," said Leyland's UK operations director Robin Woo[cock at the time, "the Bruce offers potentially the best solution to the distribution dilemma It provides the best combination of loading height and uninterrupted load space, and uses proven components in its front-wheel-drive configuration. Most of all," he said, "it is not confined to the brewery trade but will appeal to all aspects of urban delivery."
Leyland's interest is unwavering — indeed, it is already building the second Freighter-based version and, merger or no merger, there is little doubt that the project will continue. In fact it may even benefit from the engineering of Dots own dropframe chassis.
EXPORT POTENTIAL
Woodcock also emphasised the project's considerable export potential: a point that has not gone unnoticed by Japanese manufacturers.
According to Frank Bennett of HCV Motor Vehicle Distributors, Warrington, who played a part in the initial design work, Hino has expressed great interest in the front-wheel-drive concept for urban distribution work. In Japan, retail delivery accounts for some 90% of all truck movements, so such a design would meet the
needs of its domestic market needs.
The present design stems from the early work of S&N's former group fleet engineer the late Alan Bruce, and has culminated in a standard 16.26 tonner converted to front-wheel-drive. With a dropped-chassis this gives a full-length, uninterrupted low-height load bed.
Sadly, Bruce died before his ideas became reality, but the concept was developed by his former colleage and now distribution director Ray Stark. Together with Bruce's successor at S&N, George Thomson and Eric Green of Atkinson Trucks (a design engineer of 45 years standing with Atkinson Vehicles, ERF and Leyland) Stark met the design criteria laid down by S&N. They chose an elderly Bedford TL chassis on which to build the prototype, mainly because of S&N's long association with the marque.
From a I32kW (177hp) Cummins 6BTA 5.9 litre engine mounted back-to-front, an Eaton six-speed 542-5 SMJ gearbox drives forward via a short propeller shaft into a Kirkstall AGB 5000 transfer box. This provides a dropped diiveline into the Kirkstall SD65-11-15 steering axle with its double-jointed universals and a 40° steering angle. It also allows the engine sump to clear the differential casing.
With 315/70R22.5 tyres and a 4.53:1 final drive, the Mkl has a top speed of 98km/h (63mph). for a front-wheel-drive truck its uphill tractive performance ismuch better than was first feared, with a claimed 19.5% gradeability when laden and a park brake capable of holding on a 26% grade facing up or down hill.
Manoeuvrability is said to be well up to the required standard, with a 20.73m (68ft) turning circle.
PRACTICALITY
A couple of quick circuits around Edinburgh's Ingoldstone Show Ground circuit proved the practicality of the front-wheeldrive arrangement.
It handled well, but did allow a fair amount of drive/steer reaction at the steering wheel. This effect will be eliminated on the Freighter-cabbed Mk 11, by using ZF power steering.
That apart, the Bruce drove and braked positively — as one would expect from a FWD vehicle.
It has a wide cab-to-body space, and while this allowance of 1,067mm (42in) between the front axle and drop-in frame enhances accessibility for maintenance, its real purpose is to prevent axle overloading.
Using Bedford's forward-control cab has its advantages, allowing the engine sufficient clearance underneath. Because of the tilt torsion bars at the front, however, it needs a shallow tunnel inside to clear the transfer box.
Behind it, the tailored radiator is mounted at an angle to prevent it fouling the cab when tilting.
Using the hydraulic tilting Freighter cab will give it an extra 200mm clearance at SMT of Edinburgh built the original body without rear corner roof pillars, but with wrap-around rear and folding side curtains. The next stage, which will involve one of the major bodybuilders, is to eliminate the wheelboxes, and maybe even do without main frame outriggers.
There is also the possibility that some of the advanced features of the Boalloy body used on Leyland's TX450 concept vehicle may be introduced.
Much of the dropped-frame section has been welded together; the next model will have a separate bolted-on crossmember.
This would allow separate modular bolt on/off bodies to suit any type of distribution trade. Possibilities seem endless, and the project has enormous potential, both on the home market and overseas.
Now, with the well-deserved backing of Leyland and other sections of the industry, the Bruce-SN looks likely to become a profitable tribute to British engineering.