• COMMENT ZEEBRUGGE • There is nothing to be gained
14th March 1987
Page 5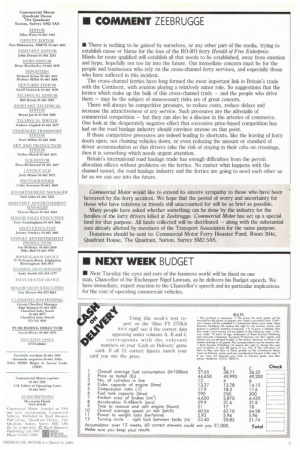 Page 5, 14th March 1987 —
• COMMENT ZEEBRUGGE • There is nothing to be gained
Close
by ourselves, or any other part of the media, trying to establish cause or blame for the loss of the RO-RO ferry Herald of Free Entoprise. Minds far more qualified will establish all that needs to be established, away from emotion and hype, hopefully not too far into the future. Our immediate concern must be for the people and businesses who rely on the cross-channel ferry services, and especially those who have suffered in this incident.
The cross-channel ferries have long formed the most important link in Britain's trade with the Continent, with aviation playing a relatively minor role. So suggestions that the lorries which make up the bulk of this cross-channel trade — and the people who drive them — may be the subject of unnecessary risks are of great concern.
There will always be competitive pressure, to reduce costs, reduce delays and increase the attractiveness of any service. Such pressures are the adrenalin of commercial competition — but they can also be a disease in the arteries of commerce. One look at the desperately negative effect that excessive price-based competition has had on the road haulage industry should convince anyone on that point.
If those competitive pressures are indeed leading to shortcuts, like the leaving of ferry doors open, not chaining vehicles down, or even reducing the amount or standard of driver accommodation so that drivers take the risk of staying in their cabs on crossings, then it is something which needs urgent attention.
Britain's international road haulage trade has enough difficulties from the permit allocation offices without problems on the ferries. No matter what happens with the channel tunnel, the road haulage industry and the ferries are going to need each other as far as we can see into the future.