LOOKING OUTBACK
14th March 1987
Page 47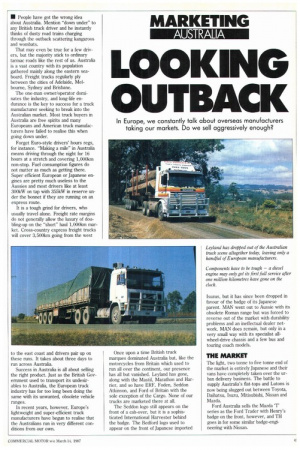 Page 48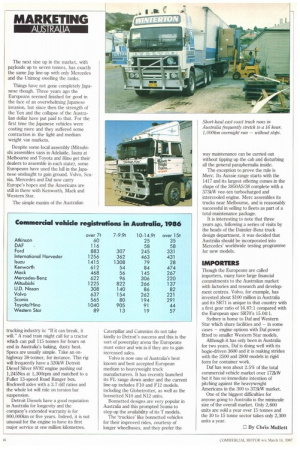 Page 47, 14th March 1987 —
LOOKING OUTBACK
Close
In Europe, we constantly talk about overseas manufacturers taking our markets. Do we sell aggressively enough?
• People have got the wrong idea about Australia. Mention "down under" to any British truck driver and he instantly thinks of dusty road trains charging through the outback scattering kangaroos and wombats.
That may even be true for a few drivers, but the majority stick to ordinary tarmac roads like the rest of us. Australia is a vast country with its population gathered mainly along the eastern seaboard. Freight trucks regularly ply between the cities of Adelaide, Melbourne, Sydney and Brisbane.
The one-man owner/operator dominates the industry, and long-life endurance is the key to success for a truck manufacturer seeking to break into the Australian market. Most truck buyers in Australia are free spirits and many Europeans and American truck manufacturers have failed to realise this when going down under.
Forget Euro-style drivers' hours regs, for instance. "Making a mile" in Australia means driving through the night for 16 hours at a stretch and covering 1,000km non-stop. Fuel consumption figures do not matter as much as getting there. Super efficient European or Japanese engines are pretty much useless to the Aussies and most drivers like at least 300kW on tap with 355kW in reserve under the bonnet if they are running on an express route.
It is a tough grind for drivers, who usually travel alone. Freight rate margins do not generally allow the luxury of doubling-up on the "short" haul 1,000km market. Cross-country express freight trucks will cover 3,500Iun going from the west to the east coast and drivers pair up on these runs. It takes about three days to run across Australia.
Success in Australia is all about selling the right product. Just as the British Government used to transport its undesirables to Australia, the European truck industry has for too long been doing the same with its unwanted, obsolete vehicle ranges.
In recent years, however, Europe's lightweight and super-efficient truck manufacturers have begun to realise that the Australians run in very different conditions from our own. Once upon a time British truck marques dominated Australia but, like the motorcycles from Britain which used to run all over the continent, our presence has all but vanished. Leyland has gone, along with the Mastif, Marathon and Harrier, and so have ERF, Foden, Seddon Atkinson, and Ford of Britain with the sole exception of the Cargo. None of our trucks are marketed there at all.
The Seddon logo still appears on the front of a cab-over, but it is a sophisticated International Harvester behind the badge. The Bedford logo used to appear on the front of Japanese imported Components have to lie tough — a diesel engine may only get its first full service after one million kilometres have gone on the clock.
Isuzus, but it has since been dropped in favour of the badge of its Japanese parent. MAN went out to Aussie with its obsolete Roman range but was forced to reverse out of the market with durability problems and an ineffectual dealer network. MAN does remain, but only in a very small way with its specialist allwheel-drive chassis and a few bus and touring coach models.
THE MARKET
The light, two tonne to five tonne end of the market is entirely Japanese and their vans have completely taken over the urban delivery business. The battle to supply Australia's flat-tops and Lutons is now being slugged out between Toyota, Daihatsu, Isuzu, Mitisubishi, Nissan and Mazda.
Ford Australia sells the Mazda 'T' series as the Ford Trader with Henry's badge on the front, however, and TH goes in for some similar badge-engineering with Nissan. The next size up in the market, with payloads up to seven tonnes, has exactly the same Jap line-up with only Mercedes and the Unimog swelling the ranks.
Things have not gone completely Japanese though. Three years ago the Europeans seemed finished for good in the face of an overwhelming Japanese invasion, but since then the strength of the Yen and the collapse of the Australian dollar have put paid to that. For the first time the Japanese vehicles were costing more and they suffered some contraction in the light and medium weight van markets.
Despite some local assembly (Mitsubishi assembles vans in Adelaide, Isuzu at Melbourne and Toyota and Hino get their dealers to assemble in each state), some Europeans have used the lull in the Japanese onslaught to gain ground. Volvo, Scalia, Mercedes and Daf now carry Europe's hopes and the Americans are still in there with Kenworth, Mack and Western Star.
trucking industry is: "If it can break, it will." A road train might call for a tractor which can pull 115 tonnes for hours on end in Australia's baking, dusty heat. Specs are usually simple. Take an onhighway 38-tonner, for instance. This rig will frequently have a 320kW Detroit Diesel Silver 8V92 engine pushing out 1,245Nm at 1,300rpm and matched to a Fuller 13-speed Road Ranger box, Rockwell axles with a 3.7 diff ratios and the whole lot will ride on torsion bar suspension.
Detroit Diesels have a good reputation in Australia for longevity and the company's extended warranty is for 800,000Icm or five years. Indeed, it is not unusual for the engine to have its first major service at one million kilometres. Caterpillar and Cummins do not take kindly to Detroit's success and this is the sort of powerplay arena the Europeans must enter and win in if they are to gain increased sales.
Volvo is now one of Australia's best known and best accepted European medium to heavyweight truck manufacturers. It has recently launched its FL range down under and the current line-up includes F10 and F12 models. including the Globetrotter, as well as the bonnetted N10 and N12 units.
Bonnetted designs are very popular in Australia and this prompted Scania to step-up the availability of its models.
The Iruckies' like bonnetted vehicles for their improved rides, courtesy of longer wheelbases, and they prefer the
way maintenance can be carried out without tipping up the cab and disturbing all the general paraphernalia inside. The exception to prove the rule is Merc. Its Aussie range starts with the 1417 and its largest offering comes in the shape of the 3850AS/38 complete with a 373kW vee-ten turbocharged and intercooled engine. Merc assembles its trucks near Melbourne, and is reasonably successful in selling to fleets as part of a total maintenance package.
It is interesting to note that three years ago, following a series of visits by the heads of the Daimler-Benz truck design department, it was decided that Australia should be incorporated into Mercedes' worldwide testing programme for new models.
IMPORTERS
Though the Europeans are called importers, many have large financial commitments to the Australian market with factories and research and development centres. Volvo, for example, has invested about $100 million in Australia and its SR71 is unique to that country with a first gear ratio of 16.87:1 compared with the European spec SR70's 15.04:1.
Sydney is home to Daf and Western Star which share facilities and — in some cases — engine options with Daf power fitted to smaller Western Star models.
Although it has only been in Australia for two years, Daf is doing well with its bogie-driven 3600 and it is making strides with the 2500 and 2800 models in rigid form for container work.
Daf has won about 2.5% of the total commercial vehicle market over 172kW but it has no immediate intention of pitching against the heavyweight Americans in the 300 to 373kW market.
One of the biggest difficulties for anyone going to Australia is the miniscule size of the overall market. Only 2,600 units are sold a year over 15 tonnes and the 10 to 15 tonne sector takes only 2,300 units a year.