DEAR
14th March 1987
Page 32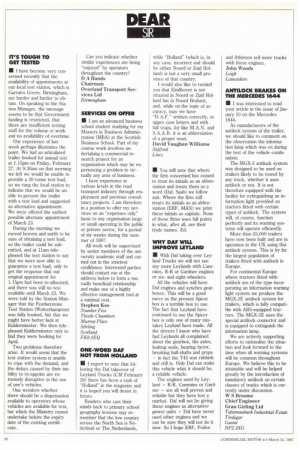 Page 32, 14th March 1987 —
DEAR
Close
SIR
FT'S TOUGH TO GET TESTED • I have become very concerned recently that the availability of appointments at our local test station, which is Garratts Green, Birmingham, are harder and harder to obtain. On speaking to the Station Manager, the message seems to be that Government funding is restricted, that there are insufficient testing staff for the volume of work and no availability of overtime.
Our experience of last week perhaps illustrates the point. We had an articulated trailer booked for annual test at 1.15pm on Friday, February 27. At 9.30am on that morning we felt we would be unable to provide a 20 tonne test load, so we rang the local station to indicate that we would be unable to present the trailer with a test load and suggested an alternative appointment. We were offered the earliest possible alternate appointment of March 23.
During the morning we moved heaven and earth to be sure of obtaining a test load, so the trailer could be submitted, and at 1 larn telephoned the test station to say that we were now able to guarantee a test load, only to get the response that our original appointment for 1.15pm had been re-allocated, and there was still no test available until March 23. We were told by the Station Manager that the Featherstone Test Station (Wolverhampton) was fully booked, but that we might have better luck at Kidderminster. We then telephoned Kidderminster only to find they were booking for April.
Two problems therefore arise. It would seem that the test station system is unable to cope with the demand, and the delays caused by their inability to re-appoint are extremely disruptive in the use of one's vehicles.
One wonders whether there should be a dispensation available to operators whose vehicles are available for test, but which the Ministry cannot undertake before the expiry date of the existing certificate. Can you indicate whether similar experiences are being "enjoyed" by operators throughout the country? D A Hands Chairman Overland Transport Services Ltd
Birmingham
SERVICES ON OFFER
Elam an advanced business school student studying for my Masters in Business Administration (MBA) at the Scottish Business School. Part of my course work involves undertaking a commercial research project for an organisation which may be experiencing a problem in virtually any area of business.
I have experience at various levels in the road transport industry through employment and previous consultancy projects. I am therefore in a position to offer my services on an "expenses only" basis to any organisation large or small operating in the public or private sector, for a period of six weeks during the summer of 1987.
All work will be supervised by senior members of the university academic staff and carried out in the strictest confidence. Interested parties should contact me at the address below to form a mutually beneficial relationship and make use of a highly effective management tool at a minimal cost.
Stephen Kee Number Five Thistle Chambers Murray Place Stirling Scotland FK8 2EQ ONE-WORD DAF N OT FROM HOLLAND
• I regret to note that following the Daf takeover of Leyland Trucks (CM February 28) there has been a rash of "Holland" in the magazine and it is hoped you will desist in future.
Readers who cast their minds back to primary school geography lessons may remember that the low country across the North Sea is Nederland or The Netherlands, while "Holland" (which is, in any case, incorrect and should be either Noord or Zuid Holland) is but a very small province of that country.
I would also like to remind you that Eindhoven is not situated in Noord or Zuid Holland but in Noord Brabant, and, while on the topic of accuracy, may we have "D.A.F." written correctly, in upper case letters and with full stops, for like M.A.N. and S.A.A.B. it is an abbreviation of a proper noun.
David Vaughan Williams Stafford Lints • You will note that where the firm concerned has ceased to treat its initials as an abbreviation and treats them as a word (Daf, Saab) we follow suit. Where the firm still treats its initials as an abbreviation (ERF, MAN) we print these initials as capitals. None of these firms uses full points in what, after all, are their trade names. Ed.
WHY DAF WILL IMPROVE LEYLAND
• With Oaf taking over Leyland Trucks we will not see any more Leylands with Cummins, R-R or Gardner engines or sixand eight-wheelers.
All the vehicles will have Daf engines and synchro gearboxes. This will be a good move as the present Spicer box is a terrible box to use. The fact that Leyland have continued to use the Spicer box is only one of many mistakes Leyland have made. All the drivers I know who have had Leylands all complained about the gearbox, the axles, leaking seals, bearing factor, breaking half-shafts and props — in fact the 145 was rubbish and still is. Only Daf can make this vehicle what it should be, a reliable vehicle.
The engines used by Leyland — R-R, Cummins or Gardner — are all well proven and reliable but they have lost a market. Daf will not ,be giving these engines as alternative power units — Daf have never used other engines and we can be sure they will not do it now. So I hope ERF, Foden and Atkinson sell more trucks with these engines.
John Woods Leigh Lancashire ANTILOCK BRAKES ON THE MERCEDES 1644 • I was interested to read your article in the issue of January 10 on the Mercedes 1644.
As manufacturers of the antilock system of the trailer, we should like to comment on the observation the information lamp which was on during the test of the vehicle combination.
The MGX-2 antilock system was designed to be used on trailers likely to be towed by any truck, whether it uses antilock or not. It is not therefore equipped with the facility for extinguishing an information light provided on tractors fitted with certain types of antilock. The system will, of course, function perfectly and its warning systems will operate efficiently.
More than 25,000 trailers have now been built and are in operation in the UK using this antilock system. This is by far the largest population of trailers fitted with antilock in Europe.
For continental Europe where tractors fitted with antilock are of the type incorporating an information warning light system we produce the MGX-2E antilock system for trailers, which is fully compatible with ABS-equipped tractors. The MGX-2E uses the special antilock connector and is equipped to extinguish the information lamp.
We are actively supporting efforts to rationalise the situation and look forward to the time when all warning systems will be common throughout Europe. We believe this to be attainable and will be helped greatly by the introduction of mandatory antilock on certain classes of trucks which is currently under discussion.
W S Broome Chief Engineer Grau Girling Ltd Tafarnaubach Industrial Estate Tredegar Gwent NP2 3XG