Speedy minis win
14th March 1987
Page 21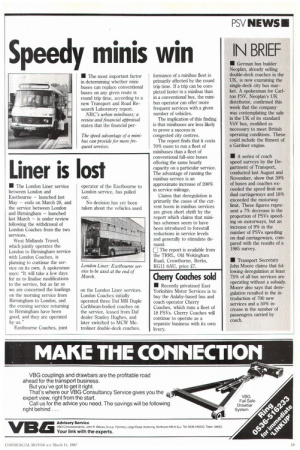 Page 21, 14th March 1987 —
Speedy minis win
Close
• The most important factor in determining whether minibuses can replace conventional buses on any given route is • round trip time, according to a new Transport and Road Research Laboratory report. NBC's urban minibuses; a review and financial aploaisai states that the financial per The speed advantage of a minibus can provide for more frequent services. forrnance of a minibus fleet is primarily affected by the round trip time. If a trip can be completed faster in a minibus than in a conventional bus, the minibus operator can offer more frequent services with a given number of vehicles.
The implication of this finding is that minibuses are less likely to prove a success in congested city centres.
The report finds that it costs 70% more to run a fleet of minibuses than a fleet of conventional full-size buses offering the same hourly capacity on a particular service. The advantage of running the minibus service is an approximate increase of 200% in service mileage.
Claims that deregulation is primarily the cause of the current boom in minibus services are given short shrift by the report which claims that minibus schemes seem to have been introduced to forestall reductions in service levels and generally to stimulate demand.
The report is available from the TRRL, Old Wokingham Road, Crowthorne, Berks, RG11 6AU, price 27.