Ashford lowers the boom on Expo Fuels
14th March 1987
Page 19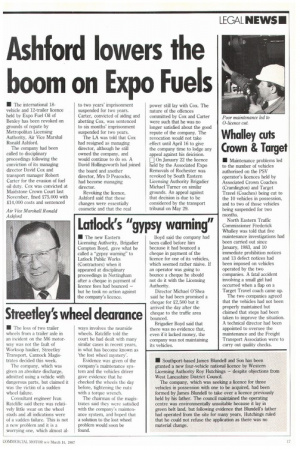 Page 19, 14th March 1987 —
Ashford lowers the boom on Expo Fuels
Close
• The international 18vehicle and 12-trailer licence held by Expo Fuel Oil of Bexley has been revoked on grounds of repute by Metropolitan Licensing Authority, Air Vice Marshal Ronald Ashford.
The company had been called to disciplinary proceedings following the conviction of its managing director David Cox and transport manager Robert Carter for the evasion of fuel oil duty. Cox was convicted at Maidstone Crown Court last November, fined 275,000 with £14,000 costs and sentenced Air Vice Marshall Ronald Ashford to two years' imprisonment suspended for two years. Carter, convicted of aiding and abetting Cox, was sentenced to six months' imprisonment suspended for two years.
The LA was told that Cox had resigned as managing director, although he still owned the company, and would continue to do so. A David Hollingsworth had joined the board and another director, Mrs D Peacocks, had become managing director.
Revoking the licence, Ashford said that these changes were essentially cosmetic and that the real power still lay with Cox. The nature of the offences committed by Cox and Carter were such that he was no longer satisfied about the good repute of the company_ The revocation would not take effect until April 16 to give the company time to lodge any appeal against his cleicision. 0 On January 22 the licence held by the Associated Expo Removals of Rochester was revoked by South Eastern Licensing Authority Brigadier Michael Turner on similar grounds. An appeal against that decision is due to be considered by the transport tribunal on May 29.