Ten up for Scania
14th March 1987
Page 14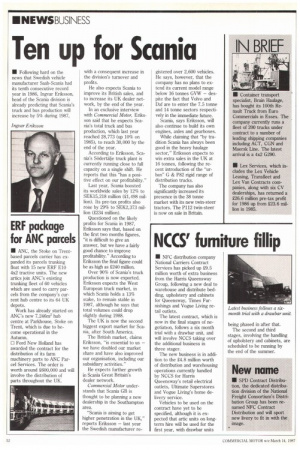 Page 14, 14th March 1987 —
Ten up for Scania
Close
Keywords :
Manufacturing
,
Södertälje Municipality
,
Road Transport
,
Scania
,
Volkswagen
,
Scania Ab
,
Sweden
,
Man Se
,
Buses
,
Automotive Industry
,
Truck
,
Scania-vabis
,
Business / Finance
• Following hard on the news that Swedish vehicle manufacturer Saab-Scania had its tenth consecutive record year in 1986, Ingvar Eriksson, head of the Scania division is already predicting that Scania's truck and bus production will increase by 5% during 1987, with a consequent increase in the division's turnover and profits.
He also expects Scania to improve its British sales, and to increase its UK dealer network, by the end of the year.
In an exclusive interview with Commercial Motor, Eriksson said that he expects Scania's total truck and bus production, which last year reached 28,773 (up 10% on 1985), to reach 30,000 by the end of the year.
According to Eriksson, Scania's Sodertalje truck plant is currently running close to full capacity on a single shift. He reports that this "has a positive effect on our profitability."
Last year, Scania boosted its worldwide sales by 12% to SEK15,218 million (21,498 million). Its pre-tax profits also rose by 29% to SEK2,373 million (2234 million).
Questioned on the likely profits for Scania in 1987, Eriksson says that, based on the first two months figures, "it is difficult to give an answer, but we have a fairly good chance to improve profitability." According to Eriksson the final figure could be as high as 2240 million.
Over 90% of Scania's truck production is now exported. Eriksson expects the West European truck market, in which Scania holds a 13% stake, to remain stable in 1987, although he says that total volumes could drop slightly during 1988.
The UK is now the second biggest export market for Scania, after South America.
The British market, claims Eriksson, "is essential to us — we have doubled our market share and have also improved our organisation, including our subsidiary activities."
He expects further growth in Scariia Great Britain's dealer network.
Commercial Motor understands that Scania GB is thought to be planning a new dealership in the Southampton area.
"Scania is aiming to get higher penetration in the UK," reports Eriksson — last year the Swedish manufacturer re
gistered over 2,600 vehicles. He says, however, that the company has no plans to extend its current model range below 16 tonnes GVW — despite the fact that Volvo and Daf are to enter the 7.5 tonne and 14 tonne sectors respectively in the immediate future.
Scania, says Eriksson, will also continue to build its own engines, axles and gearboxes.
While claiming that "by tradition Scania has always been good in the heavy haulage sector," Eriksson expects to win extra sales in the UK at 16 tonnes, following the recent introduction of the "urban" G & P82 rigid range of distribution trucks.
The company has also significantly increased its presence in the 38 tonne market with its new twin-steer tractors. The P112 twin-steer is now on sale in Britain.