**"ODA launches Series 60
14th March 1987
Page 13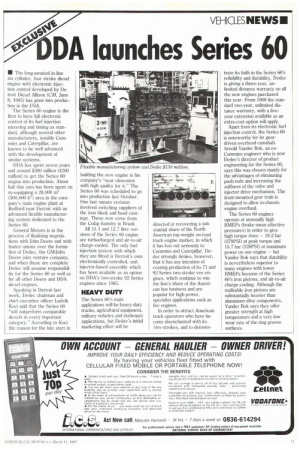 Page 13, 14th March 1987 —
**"ODA launches Series 60
Close
• The long-awaited in-Line six cylinder, four stroke diesel engine with electronic injection control developed by Detroit Diesel Allison (CM, June 8, 1985) has gone into production in the USA.
The Series 60 engine is the first to have full electronic control of its fuel injection metering and timing as standard, although several other manufacturers, notably Cummins and Caterpillar, are known to be well advanced with the development of similar systems.
DDA has spent seven years and around $300 million (200 million) to get the Series 60 engine into production. About half this sum has been spent on re-equipping a 28,000 in' (300,000 ft') area in the company's main engine plant at Redford near Detroit with an advanced flexible manufacturing system dedicated to the Series 60.
General Motors is in the process of finalising negotiations with John Deere and with trades unions over the formation of Dedec, the GM/John Deere joint venture company, and when these are complete Dedec will assume responsibility for the Series 60 as well as for all other Deere and DDA diesel engines.
Speaking in Detroit last week, Dedec chairman and chief executive officer Ludvik Koci said that the Series 60 "will outperform comparable diesels in every important category." According to Koci the reason for the late start in building the new engine is his company's "near obsession with high quality for it." The Series 60 was scheduled to go into production last October. One last minute revision involved switching suppliers of the iron block and head castings. These now come from the Cofap foundry in Brazil.
All 11.1 and 12.7 litre versions of the Series 60 engine are turbocharged and air-to-air charge-cooled. The only fuel injection system with which they are fitted is Detroit's own electronically controlled, unit injector-based assembly which has been available as an option on DDA's two-stroke 92 Series engines since 1985.
HEAVY DUTY
The Series 60's main applications will he heavy-duty trucks, agricultural equipment, military vehicles and stationary applications, but Dedec's initial marketing effort will he directed at recovering a substantial share of the North American top-weight on-road truck engine market, in which it has lost out seriously to Cummins and Caterpillar. Dedec strongly denies, however, that it has any intention of ceasing production of its 71 and 92 Series two-stroke vee engines, which continue to win the lion's share of the American bus business and are popular for high-power, specialist applications such as fire engines.
In order to attract American truck operators who have become disenchanted disenchanted with its two-strokes, and to demons trate its faith in the Series 60's reliability and durability, Dedec is giving a three-year, unlimited distance warranty on all the new engines purchased this year. From 1988 the standard two-year, unlimited distance warranty, with a fiveyear extension available as an extra-cost option will apply.
Apart from its electronic fuel injection control, the Series 60 is noteworthy for its geardriven overhead camshaft. Arnold Vander Bok, an exCummins engineer who is now Dedec's director of product engineering for the Series 60, says this was chosen mainly for the advantages of eliminating push rods and increasing the stiffness of the valve and injector drive mechanism. The front-mounted gear train is designed to allow in-chassis engine overhaul.
The Series 60 engines operate at unusually high BMEPs (brake mean effective pressures) in order to give high torque rises — 19.2 bar (279PSI) at peak torque and 15.7 bar (228PSI) at maximum power on one engine — but Vander Bok says that durability is nevertheless superior to many engines with lower BMEPs because of the Series 60's iron pistons, and air-to-air charge-cooling. Although the malleable iron pistons are substantially heavier than aluminium alloy components, Vander Bok says they offer greater strength at high temperature and a very low wear rate of the ring groove surfaces.