Power boost from Gardner
14th March 1987
Page 12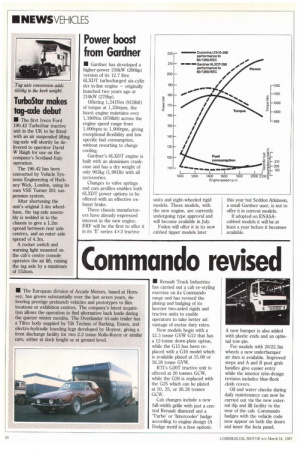 Page 12, 14th March 1987 —
Power boost from Gardner
Close
• Gardner has developed a higher-power 216kW (290hp) version of its 12.7 litre 6LXDT turbocharged six-cylin. der in-line engine — originally launched two years ago at 210kW (270hp).
Offering 1,241Nm (915Ibft) of torque at 1,350rpm, the latest engine maintains over 1,180Nm (8701bft) across the engine speed range from 1,000rpm to 1,900rpm, giving exceptional flexibility and low specific fuel consumption, without resorting to charge cooling.
Gardner's 6LXDT engine is built with an aluminium crankcase and has a dry weight of only 903kg (1,9911b) with all accessories.
Changes to valve springs and cam profiles enables both 6LXDT power options to be offered with an effective exhaust brake.
Three chassis manufacturers have already expressed interest in the new engine. ERF will be the first to offer it in its `E' series 4x2 tractive units and eight-wheeled rigid models. These models, with the new engine, are currently undergoing type approval and will become available in July.
Foden will offer it in its new cabbed tipper models later this year but Seddon Atkinson, a small Gardner user, is not to offer it in current models.
If adopted on ENASAcabbed models it will be at Least a year before it becomes available.