Rhondda Application Granted: Walsall's Urgent Need
14th March 1952
Page 41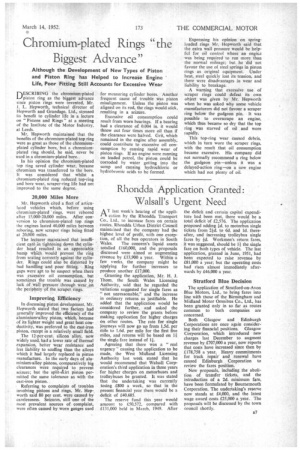 Page 41, 14th March 1952 —
Rhondda Application Granted: Walsall's Urgent Need
Close
AT last week's hearing of the application by the Rhondda Transport Co., Ltd., to increase fares on certain routes, Rhondda Urban District Council maintained that the company had the highest level of profit, with one exception, of all the bus operators in South
Wales. The concern's liquid assets totalled £160,000, and the proposals discussed were aimed at augmenting revenue by £13,900 a year. Within' a few weeks, the company might be applying for further increases to produce another £17,000.
Granting the application, Mr. H. J. Thom, the South Wales Licensing Authority, said that he regarded the variations suggested for single fares as "not unreasonable," and the increase in ordinary returns as justifiable. He added that the application would be considered further, and asked the company to review the grants before making application for higher charges O n other routes. The rate for single journeys will now go up from 1.5d. per mile to 1.6d. per mile for the first five miles, and returns will be based on 11 the single fare instead of l.
Agreeing that there was a " real urgency" causing the application to be made, the West Midland Licensing Authority last week stated that he would recommend that Walsall Corporation's third application in three years for higher charges on motorbuses and trolleybuses be granted. It was stated that the undertaking was currently losing .£800 a week, so that in the present financial year there, would be a deficit of £40,685.
The reserve fund this year would amount to £50,572, compared with £131,000 held in March, 1949. After the deficit and certain capital expenditure had been met, there would be a total deficit 'of £2,576. The application proposed adding id. to motorbus single tickets from 21d. to 6d. and Id. thereafter, and increasing trolleybus single fares by id. Workmen's return fares, it was suggested, should be l the single fare on both types of vehicle. The last application, granted in June, 1951, had been expected to raise revenue by £81,000 a year; but the operating costs had risen almost immediately afterwards by £46,000 a year.
Stratford Blue Decision The application of Stratford-on-Avon Blue Motors, Ltd., to bring fares into line with those of the Birmingham and Midland Motor Omnibus Co., Ltd., has been granted only in so far as routes common to both companies are concerned, Both Glasgow and Edinburgh Corporations are once again considering their financial positions. Glasgow Corporation, which introduced new charges last December to augment revenue by £707,000 a year, now reports that costs have increased since then by £178,758 a year. Heavy commitments for track repair and renewal have caused Edinburgh Corporation to review the fares position.
New proposals, including the abolition of transfer tickets, and the introduction of a 2d. minimum fare, have been formulated by Bournemouth Corporation. The undertaking's reserve now stands at £4,000, and the latest wage award costs £25,000 a year. The proposals will be discussed by the town council shortly.