Conflicting Views on
14th June 1935
Page 49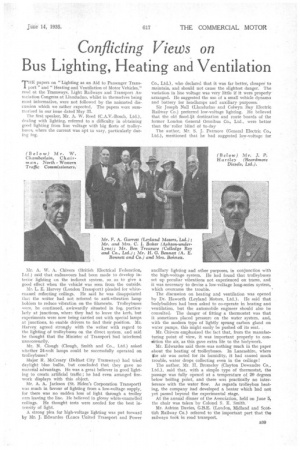 Page 49, 14th June 1935 —
Conflicting Views on
Close
Bus Lighting, Heating and Ventilation
papers on " Lighting as an Aid to Passenger Trans port " and" Heating and Ventilation of Motor Vehicles," read at the Tramways, Light Railways and Transport Association Congress at Llandudno, whilst in themselves being most informative, were not followed by the animated discussion which we rather expected. The papers were summarized in our issue dated May :31.
The first speaker, Mr. A. W. Reed (C.A.V.-Bosch, Ltd.), dealing with lighting, referred to a difficulty in obtaining good lighting from lino voltage with big fleets of trolleybuses, where the current was apt to vary, particularly during fog.
Mr. A. W. A. Cbivers (British Electrical Federation, Ltd.) said that endeavours had been made to develop interior lighting on the indirect system, so as to give a good effect when the vehicici was seen from the outside.
Mr. L. E. Harvey (London Transport) pleaded for whiteenamel reflecting ceilings. He said he was disappointed that •the writer had not referred to anti-vibration lamp holders to reduce vibration on the filaments. Trolleybuses were, he continued, awkwardly situated in fog, particularly at junctions, where they had to leave the herb, but experiments were now being carried out with special lamps at junctions, to enable drivers to find their position. Mr. Harvey. agreed strongly with the writer with regard to the lighting of trolleybuses on the direct system; and said he thought that the Minister of Transport had interfered unnecessarily.
Mr. N. Clough (Clough, Smith and Co., Ltd.) asked whether 24-volt lamps could be successfully operated on trolleybuses?
Major R. McCreary (Belfast City Tramways) had tried daylight blue bulbs, but concluded that they gave no material advantage. He was a great believer in good lighting to create artificial traffic ; he had even arranged firework displays with this object.
Mr. A. A. Jackson (St. Helen's Corporation Transport) was much in favour of lighting from a low-voltage supply, for there was no sudden loss of light through a trolley n.rm leaving the line. He believed in glossy white-enamelled ceilings. He thought tests were needed foe the best intensity of light. A strong plea for high-voltage lighting was put forward by Mr. J. Edwardes (Lancs. United Transport and Power
Co., Ltd.), who declared that it was far better, cheaper to maintain, and should not cause the slightest danger. The variation in line voltage was very little if it wore properly arranged. He suggested the use of a small vehicle dynamo and battery for headlamps and auxiliary purposes.
Sir Joseph Nall (Llandudno and Colwyn Bay Electric Railway Co.) preferred low-voltage lighting. He believed that the old tleocl-lit destination and route boards of the former London General Omnibus Co., Ltd., were better than the roller blind of to-day The• author, Mr. S. J. Patmore (General Electric Co., Ltd.), mentioned that he had suggested low-voltage for ancillary lighting and other purpoSes, in conjunction with the high-voltage system. He had found that trolleybuses set up peculiar vibrations not experienced on trams, and it was necessary to devise a low-voltage long-series system, which overcame the trouble.
The discussion on heating and ventilation was opened by Dr. Haworth (Leyland Motors, Ltd.). He said that bodybuilders had been asked to co-operate in heating and ventilation, but the automobile engineer should also be consulted. The danger of fitting a thermostat was that it sometimes placed pressure on the water system. and, with the modern type of lightly sprung carbon gland on water pumps, this might easily be pushed off its seat.
Mr. Chivers emphasized the fact that, from the manufacturing point of view, it was important properly to eontilition the air, as this gave extra life to the bodywork.
Mr. Eclv,rardes said there-was nothing much in the paper about the heating of trolleybuses. In Lancashire, where lite air was noted for its humidity, it had caused much trouble, water drops collecting even in the ceilings: The author, Mr. H. Bromeley (Clayton Dewandre Co., Ltd.), said that, with a simple type of thermostat, the passage was fully opened at a temperature of 20 degrees below boiling point, and there was practically no interference with the water flow. As regards trolleybus heating, the company had developed a beater which had not yet passed beyond the experimental stage.
At the annual dinner of the Association, held on June 5, the chair was taken by Colonel S. E. Smith.
Mr. Ashton Davies, G.B.E. '(London, Midland and Scottish Railway Co.) referred to the important part that the railways took in road transport.
Tags
People
:
Ashton Davies
,
Eclv
,
Joseph Nall
,
S. J. Patmore
,
R. McCreary
,
L. E. Harvey
,
Haworth
,
H. Bromeley
,
N. Clough
,
J. Edwardes
,
A. A. Jackson
,
S. E. Smith
,
A. W. Reed