An Ingenious Top for Lorry Bodies
14th June 1935
Page 44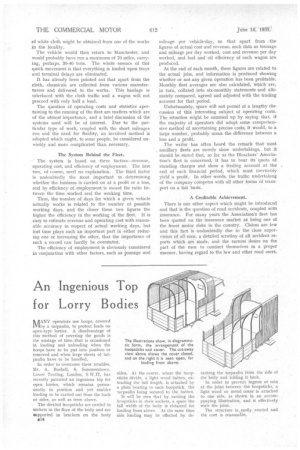 Page 44, 14th June 1935 —
An Ingenious Top for Lorry Bodies
Close
itfiANY operators use hoops, covered 1Y.Lby a tarpaulin, to protect loads on open-type lorries. A disadvantage of this method of covering the goods is the wastage of time/that is occasioned in loading and unloading when the hoops have to be put into position or removed and when large sheets of tarpaulin have to be handled.
In order to overcome these troubles, Mr. A. Bushell, 8, Summerstown. Lower Tooting, London, S.W.17, has recently patented an ingenious top for open lorries, which remains permanently in position and yet enables loading to he carried out from the back or sides, as well as from above.
The divided hoopsticks are carried in sockets in the floor of the bOdy and are supported in brackets on the body
Ba4
sides. At the centre, where the hoopsticks divide, a light wood batten, extending the full length, is attached by a plain bearing to each hoopstick. the tarpaulin being secured to the batten.
It will be seen that by turning the hoopsticks in their sockets, a space the full width of the body is obtained for loading from above. At the same time side loading may be effected by de taching the tarpaulin from the Side of the body and folding it back.
In order to prevent ingress of rain at the joint between the hoopsticks, a light wood or metal cover is attached to one side, as shown in an accompanying illustration, and it effectively seals the joint.
The structure is"easily erected and the cost is reasonable.