Little-known Facts About British Columbian Pine
14th June 1935
Page 41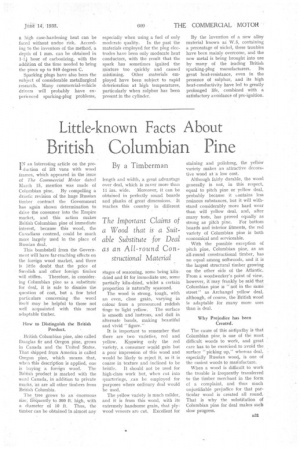 Page 41, 14th June 1935 —
Little-known Facts About British Columbian Pine
Close
By a Timberman
IN an interesting article on the pro' duction of lift vans with wood frames, which appeared in the issue of The Commercial Motor dated March 15, mention was made of Columbian pine. By compelling a drastic revision of the huge Russian timber contract the Government has again shown determination to drive the consumer into the Empire market, and this action makes British Columbian pine of immediate interest, because . this wood, the Canadians contend, could be much more largely used in the place of Russian deal.
This bombshell from the Government will have far-reaching effects on the foreign wood market, and there is little doubt that the price of Swedish and other foreign timber
will stiffen. Therefore, in considering Columbian pine as a substitute for deal, it is safe to dismiss the question of cost, but a few brief particulars concerning the wood itself may be , helpful to those not well acquainted with this most adaptable timber.
Hew to Distinguish the British Product.
British Columbian pine, also called Douglas fir and Oregon: pine, grows in Canada and the United States. That shipped from America is called Oregon pine, which means that, when this description is applied, one is buying a foreign wood. The British product is marked with the word Canada, in addition to private marks, as are all other timbers from British Columbia.
The tree grows to an enormous size, fliequently to 300 ft. high, with a diameter of 10 ft. Thus, the timber can be obtained in almost any
length and width, a great advantage over deal, which is never more than 11 ins. wide. Moreover, it can be obtained in perfectly sound boards and planks of great dimensions. It reaches this country in different
stages of seasoning, some being kiln;dried and fit for immediate use, some partially kiln-dried, whilst a certain proportion is naturally seasoned.
The wood is strong, tough, with an even, close grain, varying in colour from a pronounced reddish tinge to light yellow. The surface is smooth and lustrous, and dull in alternate bands, making beautiful and vivid "figure."
It is important to remember that there are two varieties, red and yellow. Knowing only the red variety, a consumer would gain but a poor impression of this wood and would be likely to reject it, as it is coarse in texture and .inclined to be brittle. It should not be used for high-class work but, when cut into quarterings"can he employed for purposes where ordinary deal would be used.
The yellow variety is much milder, and it is from this wood, with its extremely handsome grain, that plywood veneers are cut. Excellent for staining and polishing, the yellow variety makes an attractive decorative wood at a low cost.
Although fairly durable, the wood generally is not, in this respect, equal to pitch pine or yellow deal, probably because it contains less resinous substances, but it will withstand considerably more hard wear than will yellow deal, and, after many tests, has proved equally as strong as pitch pine. For bottom boards and interior fitments, the red variety of Columbian pine is both economical and serviceable.
With the possible exception of pitch pine, Columbian pine, as an all-round constructional timber, has no equal among softwoods, and it is the largest structural timber growing on the other side of the Atlantic. From a woodworker's point of view, however, it may frankly be said that Columbian pine is "not in the same street" as Archangel yellow deal, although, of course, the British wood is adaptable for many more uses than is deal.
Why Prejudice has been Created.
The cause of this antipathy is that Columbian pine, is one of the most difficult woods to work, and great care has to be exercised to avoid the surface "picking up," whereas deal, especially Russian wood, is one of the easiest woods to marfufacture.
When a wood is difficult to work the trouble is frequently transferred to the timber merchant in the form of a complaint, and thus much unjustifiable prejudice for that particular wood is created all round. That is why the substitution of Columbian pine for deal makes such slow progress.