A New Appliance to Reduce Loading Costs
14th June 1935
Page 37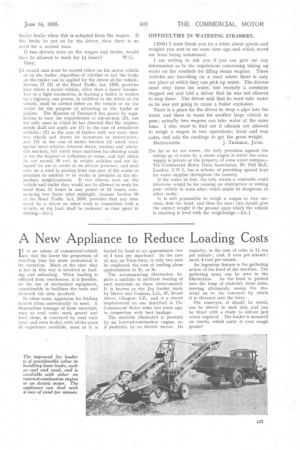 Page 37, 14th June 1935 —
A New Appliance to Reduce Loading Costs
Close
IT is an axiom of commercial-vehicle .1. use that the lower the proportion of standing time the more economical is its operation. Much of the time that is lost in this way is involved in loadbig and unloading. When loading is effected from warehouses, it is fiossible, by the use of mechanical equipment, considerably to facilitate the work and diminish the time involved.
In other cases, apparatus for loading cannot often conveniently be used. A tremendous tonnage of loose materials, sucil as coal, coke, sand, gravel and road stone, is conveyed by road each year, and even to-day, with all the years of experience available, most of it is loaded by hand at an approximate rate of 4 tons per man-hour. In the case of, say, an 8-ton lorry, if only two men be employed, the cost of loading alone approximates to 7s. or 8s.
The accompanying illustration depicts a machine to facilitate loading of such materials as those above-named. It is known as the Joy loader, made by Mayor and Coulson, Ltd., 47, Broad Street, Glasgow, S.E., and is a recent improvement on one described in The Commercial Motor some two years ago, in connection with beet haulage..
The machine illustrated is powered by an internal-combustion engine, or. if preferred, by an electric motor. Its capacity, in the case of coke, is 11 ton per minute ; coal, 2 tons per minute ; sand, 4-tons per minute.
An ingenious feature is the gathering action of the head of the machine. The gathering arms can be seen in the illustration. As the head is pushed into the heap of material, these arms, moving alternately, sweep the material on to the conveyer by which it is elevated into the lorry.
The conveyer, it should be noted, can he stewed to each side, and can be fitted with a chute to deliver just where required. The loader is mounted on tracks, which carry it over rough ground