PINIONS and QUERIES
14th June 1935
Page 36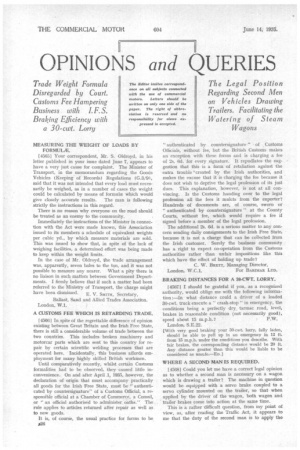 Page 37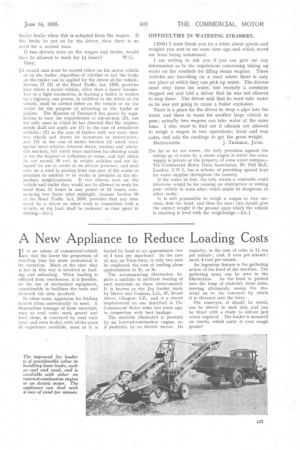 Page 36, 14th June 1935 —
PINIONS and QUERIES
Close
Keywords :
Trade Weight Formula Disregarded by Court. Customs Fee Hampering Business with I. F. S. Braking Efficiency with a 30-cwt. Lorry The Legal Position Regarding Second Men on Vehicles Drawing Trailers. Facilitating the Watering of Steam Wagons
MEASURING THE WEIGHT OF LOADS BY FORMULA.
[4505] Your correspondent, Mr. S. Oldroyd, in his letter .published in your issue dated June 7, appears to have a very just cause for complaint. The Minister of Transport, in the memorandum regarding the Goods Vehicles (Keeping of Records) Regulations (G.3/91, said that it was not intended that every load must necessarily be weighed, as in a number of cases the weight could be calculated by means of formulm which would give closely accurate results. The man is following strictly the instructions in this regard.
There is no reason why everyone on the road should be treated as an enemy to the community.
Immediately the instructions of the Minister in connection with the Act were made known, this Association issued to its members a schedule of equivalent weights per cubic yd., by which measure materials are sold. This was issued to show that, in spite of the lack of weighing facilities, a determined effort was being made to keep within the weight limits.
In the case of Mr. Oldroyd, the trade arrangement was, apparently, seven bales to the ton, and it was not possible to measure any nearer. What a pity there is no liaison in such matters between Government Departments. I firmly believe that if such a matter had been referred to the Ministry of Transport, the charge might
have been dismissed.E. c
V. SMITH, Secretary, Ballast, Sand and Allied Trades Association. London, W.1.
A CUSTOMS FEE WHICH IS RETARDING TRADE.
[4566] In spite of the regrettable difference of opinion existing between Great Britain and the Irish Free State, there is still a considerable volume of trade between the two countries. This includes broken machinery and motorcar parts which are sent to this country for repair by certain scientific welding processes that are operated here. Incidentally, this business affords employment for many highly skilled British workmen.
Until comparatively recently, whilst certain Customs formalities had to be observed, they caused little inconvenience. On and after April 1, 1935, however, the declaration of origin that must accompany practically all goods for the Irish Free State, must be " authenticated by countersignature'' of a Customs Official, a responsible official at a Chamber of Commerce, a Consul, or "an official authorised to administer oaths." The rule applies to articles returned after repair as well as to new goods.
It is, of course, the usual practice for forms to be J126 "authenticated by countersignature , Customs Officials, without fee, but the British Customs makes an exception with these forms and is charging a fee of 2s. 6d, for every signature. It repudiates the suggestion that this is a form of retaliation against the extra trouble • created by the Irish authorities, and makes the excuse that it is charging the fee because it does not wish to deprive the legal profession of its just dues. This explanation, however, is not at all convincing. Is the Customs handing over to the legal profession all the fees it mulcts from the exporter? Hundreds of documents are, of course, sworn or "authenticated by countersignature" at the County Courts, without fee, which would require a fee if signed before a member of the legal profession.
The additional 2s. 6d. is a serious matter to any concern sending daily consignments to the Irish Free State, because it is not a charge that can be collected from the Irish customer. Surely the business community has a rightto expect co-operation from the Customs authorities rather than unfair impositions like this which have the effect of holding up trade?
C. W. BRETT, Managing Director, London, W.C.1. For BARIMAR LTD.
BRAKING DISTANCES FOR A 30-CWT. LORRY..
[4567] I should be grateful if you, as a recognized authority, would oblige me with the following information :—In what distance could a driver of a loaded 30-cwt. truck execute a" crash-stop "iii emergency, the conditions being a perfectly dry tarmac road, level, brakes in reasonable condition (not necessarily good), speed about 15 m.p.h.? P.W. London, S.E.22.
[With very good braking your 30-cwt. lorry, fully laden, should be able to pull up in an emergency in 12 ft. from 15 m.p.h. under the conditions you describe. With lair brakes, the corresponding distance would be 20 ft. Any distance greater than this would be liable to be considered as unsLie.—En.]
WHERE A SECOND MAN IS REQUIRED.
[4568] Could you let me have a correct legal opinion as to whether a second man is necessary on a wagon which is drawing a trailer? The machine in question would be equipped with a servo brake coupled to a servo cylinder mounted on the trailer, so that when applied by the driver of the wagon, both wagon and trailer brakes come into action at the same time.
This is a rather difficult question, from my point of view, as, after reading the Traffic Act, it appears to me that the duty of the second man is to apply the
trailer brake when this is actuated from the wagon. If the brake be put on by the driver, then there is no need for a second man.
If two drivers were on the wagon and trailer, would
they be allowed to work for 14 bours-? W.G. Bury.
• [A second man must be carried either on the motor vehicle or on the trailer, regardless of whether or not the brake on the trailer can be applied by the driver of the vehicle. Section 17 (2) of the Road Traffic Act, 1930, provides that where a motor vehicle, other than a heavy locomotive or a light locomotive, is drawing a trailer or trailers on a highway, one person, in addition to the driver of the vehicle, shall be carried either on the vehicle or on the trailer for the purpose of attending to the trailer or trailers. The Minister of Transport has power by regulations to vary the 'requirements of sub-section (2), but the only cases in which he has directed that the requirements shall not apply are (1) in the case of articulated vehicles ; (2) in the case of trailers with not more than two wheels and drawn by motorcars or motorcycles ; and (3) in the case of motor tractors (i) which draw special meat vehicles between docks, stations and wholesale markets, (ii) which draw machines for cleaning roads or for the disposal or collection of refuse, and (iii) which do not exceed 30 cwt. in weight -unladen and are designed for use in works or on private premises, and used only on a road in passing from one part of the works or premises to another or to works or premises in the immediate neighbourhood. If • two drivers were on the ,,ehicle and trailer they would not be allowed to work for nioni than 11 hours in any period of 24 hours, commencing two hours after midnight, because Section 19 of the Road Traffic Act, 1930, provides that any time spent by a driver on other work in connection with a vehicle, or the load, shall be reckoned as time spent in driving.—En.] DIFFICULTIES IN WATERING STEAMERS.
14569] I must thank you for a letter about speeds and weights you sent to me some time ago and which saved me from being summoned.
I am writing to ask you if you can give me any information as 'to the regulations concerning taking. up water on the roadside for filling steam wagons. These vehicles are travelling on a road where there is only one place at whfeh they can pick up water. The drivers must stop there for water, but recently a constable stepped out and told a driver that he was not allowed to stop there. The driver said that he must take water as he was not going to cause a boiler explosion.
There is a place for the driver to drop a pipe into the water and there is room for another large vehicle to pass ; actually two wagons can take water at the same time. I also want to find out if officials are allowed to weigh a wagon in two operations; front and rear axles, and add the readings to get the gross weight.
Buriescombe. J. TREBBLE, JUNR.
[So far as we are aware, the only provision against the taking up of water by a steam wagon is where the water supply is private or the property of some water company. The Commercial Motor Users Association, 50, Pall Mall, London, S.W,1, has a scheme of providing special keys for water supplies throughout the country.
If the water be free, the only reason a constable could intervene would be for causing an -obstruction or resting your vehicle in some place which might be dangerous to other traffic.'
It is still permissible to weigh a wagon in two sections, first the front, and then the rear ; this shouldgive the correct weight if the ground upon which the vehicle is standing is level with the weighbridge.—En.]