Scammell Announces New Trivan 3-tonner
14th June 1935
Page 33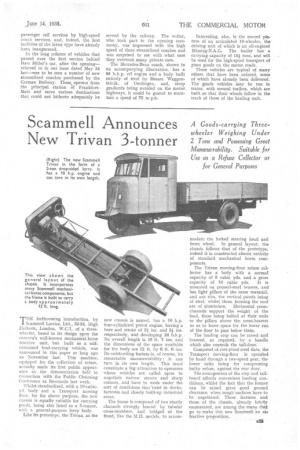 Page 33, 14th June 1935 —
Scammell Announces New Trivan 3-tonner
Close
A Goods-carrying Threewheeler Weighing Under 2 Tons and Possessing Great Manceuvrability. Suitable for Use as a Refuse Collector or
for General Purposes
IT'FIE forthcoming introduction, by Scammell Lorries, Ltd., 52-54, High Holborn, London, W.C.1, of a threewheeler, based in its design upon the concern's well-known mechanical-horse tractive unit, but built as a selfcontained load-carrying vehicle, was announced in this paper so long ago as November last. This machine, equipped for the collection of refuse, actually made its first public appearance at the demonstration held in connection with the Public Cleansing Con terence at Newcastle last week.
Whilst standardized, with a 10-cubicyd. body and a Transport moving floor, for the above purpose, the new chassis is equally suitable for carrying goods, being also listed as a 3-tonner, with a general-purpose lorry body. Like its prototype, the Trivan, as the
new chassis is named, has a 10 h.p. faur-cylindered petrol engine, having a bore and stroke of 2f ins. and 3+ ins. respectively, and developing 24 b.h.p. Its overall length is 19 ft. 7 ins, and the dimensions of the space available for the body are 12 ft. by 6 ft. 6 ins. Its outstanding feature is, of course, its remarkable manceuvrabillty ; it can turn in its own length. This must constitute a big attraction to operators whose vehicles are called upon to negotiate narrow streets and sharp ' corners, and have to work under the sort of conditions that exist in docks, factories and closely built-up industrial areas.
The frame is composed of two sturdy channels strongly braced by tubular cross-members, and bridged at the front, like the M.H. models, to accom modate the forked steering head and front wheel. In general layout, the chassis follows that of the prototype, indeed it is constructed almost entirely of standard mechanical horse components.
The Trivan moving-floor refuse collector has a body with a normal
capacity of 8 cubic yds. and a gross capacity of 10 cubic yds. It is mounted on pressed-steel bearers, and has light pillars of the same material, and ash ribs, the vertical panels being of steel, whilst those forming the roof are of aluminium. Horizontal cross channels support the weight of the load, these being bolted at their ends
to the pillars above the cross-bearers so as to leave space for the lower run of the floor to pass below them.
The loading step can be raised and lowered, as ,required, by a handle which also controls the tail-door.
Composed of rust-proof steel slats, the Transport moving-floor is operated by hand through a two-speed gear, the lower ratio being for compressing bulky refuse, against the rear door.
The arrangement of the step and tailboard affords convenient loading con ditions, whilst the fact that the former can be raised gives good ground clearance, when rough`surfaces have to
be negotiated. These features and those of the chassis, already briefly enumerated, are among the many that go to malse this new ScamMell an attractive proposition.