CONCILIATION AGREEMENT REACHED IN SCOTLAND
14th June 1935
Page 31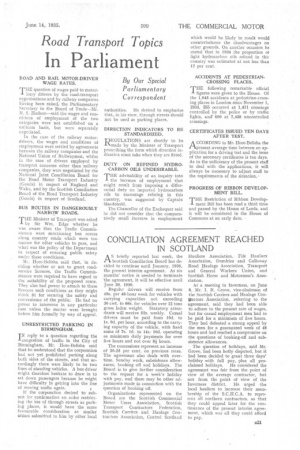 Page 31, 14th June 1935 —
CONCILIATION AGREEMENT REACHED IN SCOTLAND
Close
AS briefly reported last week, the Scottish Conciliation Board has decided to continue until January, 1936, the present interim agreement. As six months' notice is needed to terminate 'the agreement, it will be effective until June 30, 1936.
Regular drivers will receive from 49s. per 48-hour week for vehicles with carrying capacities not exceeding 30 cwt. to 66s. for vehicles over 12 tons gross laden weight. Statutory attendants will receive 52s. weekly. Casual drivers must be paid from 10d. to Is, 9d. per hour, according to the carrying capacity of the vehicle, with fixed sums of 7s. Id. to 14s.. 10d. operating as minimum daily payments for over five hours and not over 8i hours.
The concessions represent an increase of 20-25 per cent. on previous rates. The agreement. also deals with overtime, Sunday work, subsistence allowances, booking off and holidays. The Board is to give further consideration to the request for a week's holiday with pay, and there may be other adjustments made in connection with the question of booking off.
Organizations represented on the Board are the Scottish Commercial Motor Users AssOciation, Scottish Transport Contractors Federation, Scottish Carriers and Haulage Contractors Association, Central Scotland Hauliers Association, Fife Hauliers Association, Dumfries and Galloway Road Haulage Association, Transport and General Workers Union, and Scottish Horse and Motormen's Association.
At a meeting in Inverness, on June 8, Mr. I. R. Grove, vice-chairman of the Scottish Carriers and Haulage Contractors Association, referring to the agreement, said they had been able to adhere to the present rate of wages, but for casual employment men had to be paid for a minimum of five hours. They had defeated a strong appeal by the men for a guaranteed week of 48 hours and had reached a compromise on the questions of booking-off and subsistence allowances.
The question of holidays, said Mr. Grove, had been hotly disputed, but it had been decided to grant three days' holiday with full pay, plus all proclaimed holidays. He considered the agreement was fair from the point of view of the average contractor, but not from the point of view of the Inverness district, He urged -the local hauliers to increase their membership of the S.C.H.C.A. to represent all northern contractors. so -that they could appeal later for the continuance of the present interim agreement, which was all they could afford to pay.