OBJECTIONS TO B-LICENCE 'VARIATIONS :ILLEGAL
14th June 1935
Page 29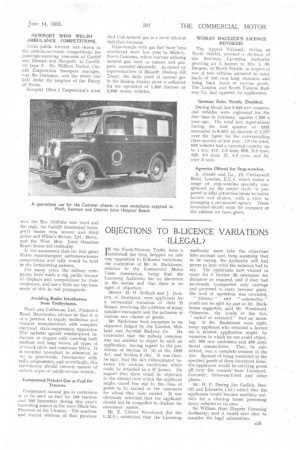 Page 29, 14th June 1935 —
OBJECTIONS TO B-LICENCE 'VARIATIONS :ILLEGAL
Close
I N the North-Western Traffic Area, a bombshell has been dropped on railway opposition to B-licence variations, the contention of Mr. H. Backhouse, solicitor to the Commercial Motor Users Association, being that the Licensing Authority has no discretion in the matter and that there is no right of objection.
Messrs. H. H. Bullock and J. Jackson, of Stockport, were .applicants for a substantial variation of their B licence, involving the addition of many specified customers and the inclusion of various new classes of goods.
Mr. Backhouse took exception to an objection lodged by the London, Midland and Scottish Railway Co. He contended that the railway company was not entitled to object to such an application, having regard to the provisions of Section 11 (3) of the 1933 Act, and Section 8 (3a). It was clear, be said, that the Act differentiated between the various conditions which could be attached to a B licence. He argued that there could be objection to the district over which the applicant might travel but not to the\ class of goods to be carried or the customers for whom they were carried. It was obviously intended that the applicant should not be compelled to disclose his customers' names.
Mr. E. Gilbert Woodward (for the L.M.S,) submitted that the Licensing Authority must take the objections into account and, even assuming that to be wrong, the Authority still had power to hear what the railways had to say. The applicants now wa,nted Lo carry for a further 20 customers for distances as required, and if they had previously transported only castings and proposed to carry brewers' grain, the area of operation was extended. "
District" and " commodity" could not be split up just as Mr. Backhouse suggested, said Mr. Woodward. Otherwise, the words of the Act, " varied or extended " had no meaning. If Mr. Backhouse were right, every applicant who obtained a licence on a modest application might, by variation to which no one could object, add 300 new customers and 400 additional commodities. That, he submitted, was a complete evasion of the Act. Instead of being restricted to the specified goods of three Stockport firms, the applicants would be carrying goods all over the country 'from Liverpool, Coventry, Stoke-on-Trent and other places.
Mr. H. F. Dering (for Garlick, Burrill and Edwards, Ltd.) added that the applicants would become auxiliary carriers for a clearing house possessing many vehicles of its own.
Sir William Hart (Deputy Licensing Authority) said it would take time to consider the legal submissions.