NEWPORT WINS WELSH AMBULANCE COMPETITIONS.
14th June 1935
Page 29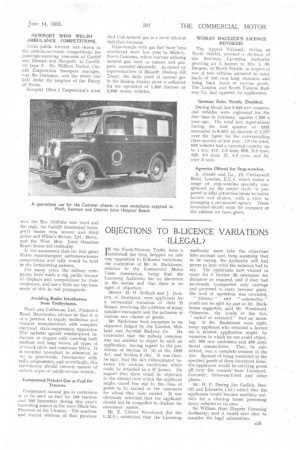 Page 29, 14th June 1935 —
NEWPORT WINS WELSH AMBULANCE COMPETITIONS.
Close
Keywords :
Counties Of Wales
,
Principal Areas Of Wales
,
Fuels
,
Alternative Propulsion
,
Engineering Vehicles
,
Cardiff
,
Caterpillar Inc.
,
Compressed Natural Gas
,
Ambulance
,
Natural Gas
,
Tractor
,
Newport
,
Business / Finance
Great public interest was shown in the ambulance-teams competitions for passenger-carrying concerns of Cardiff and District and Newport, at Cardiff, on June 5. Mr. William Forbes, Cardiff Corporation transport manager, was the chairman, and the event was held under the auspices of the Priory of Wales.
Newport (Mon.) Corporation's team won the Mrs. Griffiths rose howl and the cups, the Cardiff (municipal trans-. port) teams won second and third prizes and White's Motors, Ltd., Barry, and the West Mon. Joint Omnibus Board teams did creditably.
It was announced that the first great Welsh road-transport ambulance-teams competitions and rally would be held in the forthcoming autumn.
For many years the railway companies have made a big public feature of displays and competitions by their employees, and not a little use has been made of this in rail propaganda.
Avoiding Radio Interference from Trolleybuses.
Ward and Goldstone, Ltd., Frederick Road, Manchester, advises us that it is in a position to supply trolleybus and tramcar manufacturers with complete electrical static-suppression apparatus. This includes special weatherproof inductors or stopper coils covering both medium and long waves, all types of screened cable and condenser filters. It is essential nowadays to minimize, so far as practicable, interference with radio programmes, and accordingly, this information should interest makers of certain types of publie-service vehicle.
Compressed Natural Gas as Fuel for Tractors.
Compressed natural gas in containers is to be used as fuel for 100 tractors and 100 harvesters during this year's harvesting season in the Azov-Black Sea Province of the Ukraine. The machine and tractor stations of that province find that natural gas is a more efficient fuel than kerosene.
Experiments with gas fuel have been conducted since last year in Maikop, North Caucasus, where tractors utilizing natural gas, such as butane and propane, operated efficiently. As stated by representatives of Maineft (Maikop Oil Trust), the daily yield of natural gas in the Maikop district alone is sufficient for the operation of 1,500 tractors or 2,500 motor vehicles. WOMAN HAULIER'S LICENCE REVOKED.
The Appeal Tribunal, sit ting at North Shields, revoked a decision of the Northern Licensing Authority granting an A licence to Mrs. J. M. Burgess, of North Shields, in respect of one of two vehicles intended to carry loads of fish over long distances and bring back loads of various goods. The London and North Eastern Railway Co. had opposed the application.
German Sales Nearly Doubled.
During March last 2,056 new commercial vehicles were registered for the first time in Germany, against 1,290 a year ago. The total new registrations during the first quarter of 1935 amounted to 6,563, an increase of 3,177 over, the figure for the corresponding three months of last year. Of the total, 620 vehicles had a carrying capacity up to 1 ton; 517, 1-2 tons; 696, 2-3 tons; 148, 3-4 tons; 21, 4-5 tons, and 54, over 5 tons.
Agencies Offered for Stop-watches.
A. Arnold and Co., 19, Clerkenwell Road, London, E.C.I. which makes a range of stop-watches specially constructed for the motor trade, is prepared to offer attractive terms to motor factors and dealers, with a view to arranging a permanent agency. Those interested should write the company at the address we have given.