Passing Comments
14th June 1935
Page 24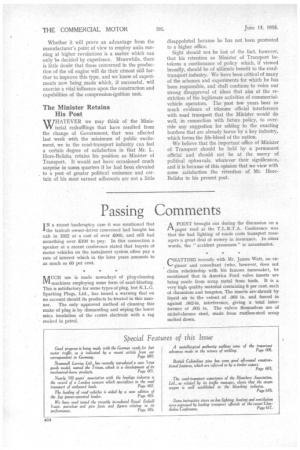 Page 25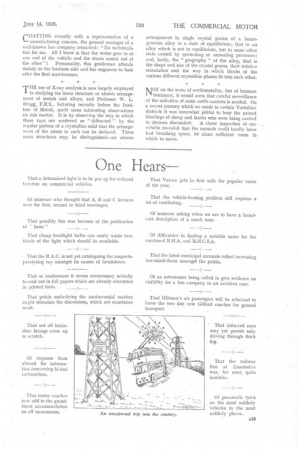 Page 24, 14th June 1935 —
Passing Comments
Close
T N a recent bankruptcy case it was mentioned that 'the taxicab owner-driver concerned had 'bought his cab in 1922 at a cost of over MO, and still had something over £100 to pay. In this connection a speaker at a recent conference stated that buyers ot motor vehicles on the instalment system often pay a rate of interest which in the later years amounts to as much as 60 per cent.
MUCH use is made nowadays of plug-cleaning machines employing some form of sand-blasting. This is satisfactory for some types of plug, but K.L.G. Sparking Plugs, Ltd., has issued a warning that on no account should its products be treated in this manner. The only approved method of cleaning this make of plug is by dismantling and wiping the lower mica insulation of the centre electrode with a rag soaked in petrol. PAA POINT brought out during the discussion on a paper read at the T.L.R.T.A. Conference was that the bad lighting of roads costs transport managers a great deal of money in insurance. In other words, the "accident proneness " is accentuated.
rHATTING recently with Mr. James Watt, an en
gineer and consultant (who, however, does not claim relationship with his famous namesake), he mentioned that in America Ford valve inserts are being made from scrap metal from tools. It is a very high quality material containing 6 per cent. each of chromium and tungsten. The inserts areshrunk by liquid air to the extent of .003 in. and forced in against .002-in, interference, giving a total interference of .005 in. The valves themselves are of nickel-chrome steel, made from rustless-steel scrap melted down. CHATTING recently with a representative of a manufacturing concern, the general manager of a well-known bus company remarked : "No technicalities for me. All I know is that the water goes in at one end of the vehicle and the steam comes out at the other " I Presumably, this gentleman attends mainly to the business side and has engineers to look after the fleet maintenance.
"THE use of X-ray analysis is now largely employed
in studying the inner structure or atomic arrangement of metals and alloys, and Professor W. L. Bragg, F.R.S., lecturing recently before the Institute of Metals, made some interesting observations on this matter. It is by observing the way in which these rays are scattered or " diffracted " by the regular pattern of a crystalline solid that the arrangement of the atoms in each can be deduced, Three main structures may be distinguished—an atomic arrangement in single crystal grains of a homogeneous alloy in a state of equilibrium ; that in an alloy which is not in equilibrium, but in some other state caused by quenching or annealing processes ; and, lastly, the " geography " of the alloy, that is the shape and size of the crystal grains, their relative orientation and the way in which blocks of the various different crystalline phases fit into each other.
MOT on the score of sentimentality, but of humane " treatment, it would seem that careful surveillance cf the activities of some cattle carriers is needed. On a recent journey which we made in certain Yorkshire districts it was somewhat pitiful to hear the pained bleatings of sheep and lambs who were being carried in obvious discomfort. A closer inspection of one vehicle revealed that the animals could hardly have had breathing space, let alone sufficient room in which to move.