One Hears
14th June 1935
Page 25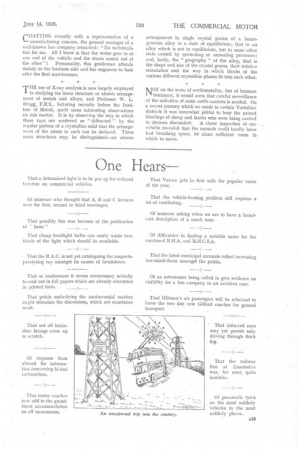 Page 25, 14th June 1935 —
One Hears
Close
That a determined fight is to be put up for reduced taxation on commercial vehicles.
Of someone who thought that A, B and C licences were for first, second or third marriages.
That possibly this was because of the publication of " bans." 0 That cheap headlight bulbs can easily waste twothirds of the light which should be available.
That the R.A.C. is not yet cataloguing the magnetoparalysing ray amongst its causes of breakdown.
That at conferences it seems unnecessary actually to read out in full papers which are already circulated in printed form.
That précis embodying the controversial matters might stimulate the discussions, which are sometimes weak.
That not all brakeshoe facings come up to scratch.
Of requests from abroad for information concerning bi-fuel carburetters.
That motor coaches now add to the grandstand accommodation on all racecourses. That Vulcan gets in first with the popular name of the year.
That the vehicle-heating problem still requires a lot of ventilating.
Of someone asking when we are to have a broadcast description of a coach tour.
Of difficulties in finding a suitable name for the combined R.H.A. and M.H.C.S.A.
That the latest municipal accounts reflect increasing bus-mindedness amongst the public, Of an astronomer being called to give evidence on visibility for a bus company in an accident case.
That Hillman's air passengers will be reluctant to leave the two fine new Gilford coaches for ground transport.
That infra-red rays may yet permit easy driving through thick fog.
That the railway lion at Llandudeo was, for once, quite
Of pneumatic tyres on the most unlikely vehicles in the most unlikely places.