The Minister Retains His Post
14th June 1935
Page 24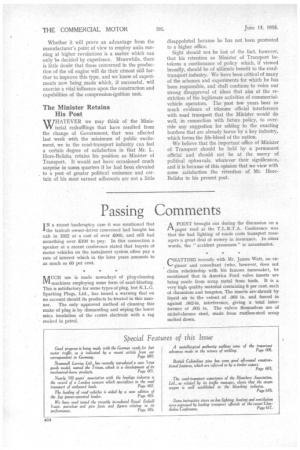 Page 24, 14th June 1935 —
The Minister Retains His Post
Close
Keywords :
WHATEVER we may think of the Ministerial reshufflings that have resulted from the change of Government, that was effected last week with the minimum of public excitement, we in the road-transport industry can feel a certain degree of satisfaction in that Mr. L. Hore-Belisha retains his position as Minister of Transport. It would not have occasioned much surprise in some quarters if he had been elevated to a post of greater political eminence and certain of his most earnest adherents are not a little disappointed because he has not been promoted to a higher office.
Sight should not be lost of the fact, however, that his retention as Minister of Transport betokens a continuance of policy which, if viewed broadly, should be of ultimate benefit to the roadtransport industry. We have been critical of many of the schemes and experiments for which he has been responsible, and shall continue to voice our strong disapproval of ideas that aim at the restriction of the legitimate activities of commercialvehicle operators. The past few years bear so much evidence of irksome official interference with road transport that the Minister would do well, in connection with future policy, to override any suggestion for adding to the exacting burdens that are already borne by a key industry, which forms the life-blood of the nation.
We believe that the important office of Minister of Transport should be held by a permanent official and should not be at the mercy of political upheavals, whatever their significance, and it is because of this opinion that we view with some satisfaction the retention of Mr. HereBelisha in his present post.