Special Features of this Issue
14th June 1935
Page 24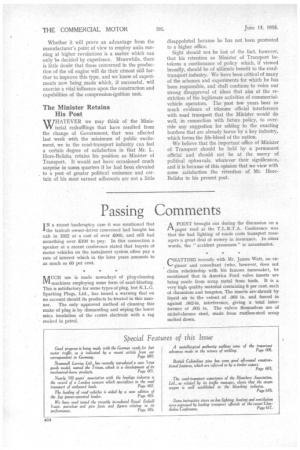 Page 24, 14th June 1935 —
Special Features of this Issue
Close
Good progress is being made with the German roads for fast motor traffic, as is indicated by a recent article from our
correspondent in Germany. Page 600.
Starnmell Lorries. Ltd., has recently introduced a new 3-ton goods model, named the Trivan, which is a development of its
mechanical-horse products. Page 601.
Nearly 100 years' association with the haulage industry is the record of a London concern which specializes in the road
transport of awkward loads. Page 602.
The loading of road vehicles is aided by a new edition of
the Joy power-operated loader. Page 605.
We have road tested the recently iniroducal Royal Enfield 3-cwt. parcekar and give facts and figures relating to its
performance. Page 605.
A metallurgical authority outlines some of the important
advances made in the science of welding. Page 608.
British Columbian pine has some good all-round constructional features, which are referred to by a timber expert. Page 60).
The road-transport experience of the Bleachers Association, Ltd., as related by its traffic manager, shows that the steam wagon is well established in the bleaching industry.
Page 610.
Some instructive views on bus lighting heating and ventilation were expressed by leading transport officials at 'the recent Llan dudno Conference. Page 617.