Restrictions on Trade Licences 0 NE of the most important
14th June 1935
Page 23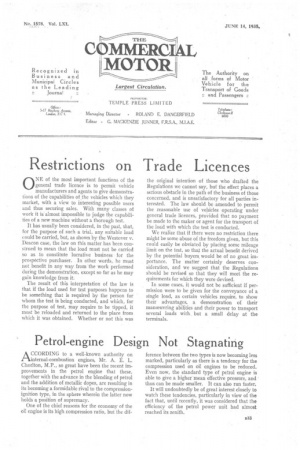 Page 23, 14th June 1935 —
Restrictions on Trade Licences 0 NE of the most important
Close
Keywords :
functions of the general trade licence is to permit vehicle manufacturers and agents to give demonstrations of the capabilities of the vehicles which they market, with a view to interesting possible users and thus securing sales. With many classes of work it is almost impossible to judge the capabilities of a new machine without a thorough test.
• It has usually been considered, in the past, that, for the purpose of such a trial, any suitable load could be carried, but, as shown by the Westover v. Deacon case, the law on this matter has been construed to mean that the load must not be carried so as to constitute lucrative business for the prospective purchaser. In other words, he must not benefit in any way from the work performed during the demonstration, except so far as he may gain knowledge from it.
The result of this interpretation of the law is that if the load used for test purposes happens to be something that is required by the person for whom the test is being conducted, and which, for the purpose of test, may require to be tipped, it must be reloaded and returned to the place from which it was obtained. Whether or not this was the original intention of those who drafted the Regulations we cannot say, but the effect places a serious obstacle in the path of the business of those concerned, and is unsatisfactory for all parties interested. The law should be amended to permit the reasonable use of vehicles operating under general trade licences, provided that no payment be made to the maker or agent for the transport of the load with which the test is conducted.
We realize that if there were no restriction there might be some abuse of the freedom given, but this could easily be obviated by placing some mileage limit on the test, so that the actual benefit derived by the potential buyers, would be of no great importance. The matter certainly deserves consideration, and we suggest that the Regulations should be revised so that they will meet the requirements for which they were devised.
In some cases, it would not be sufficient if permission were to be given for the conveyance of a single load, as certain vehicles require, to show their advantages, a demonstration of their rnanceuvring abilities and their power to transport several loads with but a small delay at the terminals.