Motorcab Topics.
14th January 1909
Page 11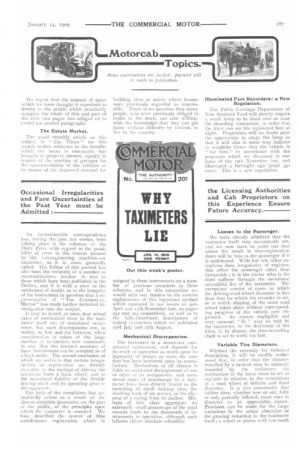 Page 11, 14th January 1909 —
Motorcab Topics.
Close
News contributions are invited : payment will be made on publication.
We regret that the amount of space which we have thought it expedient to devote to the article which practically occupies the whole of this and part of the next two pages has obliged us to crowd out several paragraphs.
The Estate Market.
The usual monthly article on this subject in " The Times " for this month makes reference to the benefits which the boom in motorcabs has brought to property owners, equally in respect of the erection of garages for the accommodation of the vehicles as by reason of the improved demand for
building sites at points where houses were previously regarded as inaccessible. There is no question that many people, who were previously obliged to reside ia the town, are now willing, with the knowledge that they can get home without difficulty lw taxicab, to live in the country-. Illuminated Fare Recorders: a New Regulation.
'the Public Carriage Department of New Scotland Yard will shortly require a small lamp to be fixed over or near the recording instrument, in order that the hirer can sec his registered fare at night. Proprietors will no doubt seize the opportunity to adapt the lamp so that it will also in some way indicate to would-be hirers that the vehicle is " for hire," in accordance with the proposals which we discussed in our issue of the Toth November last, and illustrated a fortnight ago (page 340 or110. This is a new regulation.