KEEPING IT REAL
14th February 2008
Page 48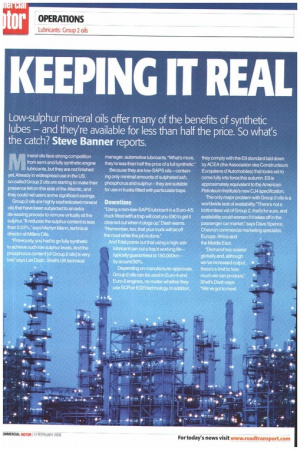 Page 49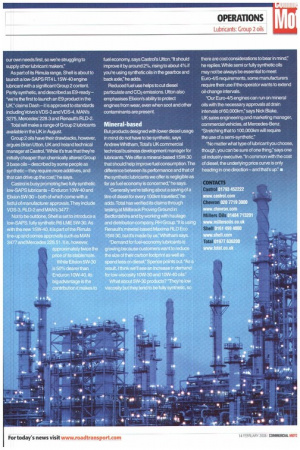 Page 48, 14th February 2008 —
KEEPING IT REAL
Close
Keywords :
Soft Matter
,
Matter
,
Motor Oils
,
Petroleum Products
,
Oils
,
Synthetic Fuels
,
Oil Campaign Of World War Ii
,
Synthetic Oil
,
Lubricant
,
Oil
,
Mineral Oil
Low-sulphur mineral oils offer many of the benefits of synthetic iubes — and they're available for less than half the price. So what's the catch? Steve Banner reports.
merel oils face strong competition from semi and fully synthetic engine
0 lubricants, but they are not finished yet. Already in widespread use in the US. so-called Group 2 oils are starting to make their presence felt on this side of the Atlantic. and they could net users some significant savings
Group 2 oils are highly sophisticated mineral oils that have been subjected to an extra de-waxing process to remove virtually all the sulphur. 11 reduces the sulphur content to less than 0.03%; says Martyn Mann, technical director at Millers Oils.
"Previously, you had to go fully synthetic to achieve such low sulphur levels. And the phosphorus content Eof Group 2 oils] is very low:' says Les Dash, Shell's UK technical manager, automotive lubricants."Whats more, they're less than half the price of a full synthetic" Because they are low-SAPS oils containing only minimal amounts of sulphated ash, phosphorus and sulphur they are suitable for use in trucks fitted with particulate traps.
Downtime -Using a non-low-SAPS lubricant in a Euro-4/5 truck fitted with a trap will cost you £80 to get it cleaned out when it clogs up," Dash warns. "Remember, too, that your truck will be off the road while the job is done:'
And Total points out that using a high-ash lubricant can cut a trap's working lifetypically guaranteed at 150,000km by around 50%.
Depending on manufacturer approvals, Group 2 oils can be used in Euro-4 and Eura-5 engines, no matter whether they use SCR or EGA technology In addition, they comply with the E9 standard laid down by ACEA (the Association des Constructeurs Europeans cl'Automobiles) that looks set to come fully into force this autumn E9 is approximately equivalent to the American Petroleum Institute's new al4 specification.
The only major problem with Group 2 oils is a worldwide lack of availability, "There's not a bottomless vat of Group 2, that's for sure, and availability could worsen if it takes off in the passenger car market," says Dave Spence, Chevron commercial marketing specialist. Europe. Africa and the Middle East.
"Demand has soared globally and, although we've increased output, there's a limit to how much we can produce," Shell's Dash says. 'We've got to meet our own needs first, so were struggling to supply other lubricant makers:' As part of its Rimula range, Shell is about to launch a low-SAPS RT4 L 15W-40 engine lubricant with a significant Group 2 content. Partly synthetic, and described as E9-ready — 'We're the first to launch an E9 product in the UK:' claims Dash —it is approved to standards including Volvo's VDS-3 and VDS-4, MAN's 3275, Mercedes' 228.3 and Renault's RLD-2.
Total will make a range of Group 2 lubricants available in the UK in August Group 2 oils have their drawbacks, however, argues Brian Utton, UK and Ireland technical manager at Castrol."While it's true that they're initially cheaper than chemically altered Group 3 base oils— described by some people as synthetic—they require more additives, and that can drive up the cost:' he says.
Castro' is busy promoting two fully synthetic low-SAPS lubricants —Enduron 10W-40 and Elixion 5W-30 — both of which come with a fistful of manufacturer approvals.They include VDS-3, RLD-2 and MAN's 3477.
Not to be outdone, Shell is set to introduce a low-SAPS, fully synthetic R6 LME 5W-30. As wrth the newt 5W-.40, it is part of the Rimula line-up and comes approvals such as MAN 3477 and Mercedes 228.51.1t is, however, approximately twice the price of its stablemate.
While Elixion 5W-30 is 50% dearer than Enduron 10W-40, its big advantage is the fuel economy, says Castrors Uffon it should improve it by around 2%, rising to about 4% if you're using synthetic oils in the gearbox and back axle," he adds.
Reduced fuel use helps to cut diesel particulate and CO2 emissions. Utton also emphasises Elixion's ability to protect engines from wear, even when soot and other contaminants are present.
Mineral-based
But products designed with lower diesel usage in mind do not have to be synthetic, says Andrew Whitham, Total's UK commercial technical business development manager for lubricants. We offer a mineral-based 15W-30 that should help improve fuel consumption.The difference between its performance and that of the synthetic lubricants we offer is negligible as far as fuel economy is concernecr he says
"Generally we're talking about a saving of a Litre of diesel for every 100km travelled:' he adds.Total has verified its claims through testing at Millbrook Proving Ground in Bedfordshire and by working with haulage and distribution company, RH Grouplt is using Renaults mineral-based Maxima RLD Eco 15W-30, but it's made by us," VVhitham says.
"Demand for fuel-economy lubricants is growing because customers want to reduce the size of their carbon footprint as well as spend less on diesel Spence points out. "As a result, I think we'll see an increase in demand for low-viscosity 10W-30 and 10W-40 oils:'
What about 5W-30 products? 'They're low fully synthetic, so there are cost considerations to bear in mind," he replies. While semi or fully synthetic oils may not be always be essential to meet Euro-4/5 requirements, some manufacturers require their use if the operator wants to extend oil-change intervals.
"Our Euro-4/5 engines can run on mineral oils with the necessary approvals at drain intervals of 60,000km," says Nick Blake, UK sales engineering and marketing manager, commercial vehicles, at Mercedes-Benz "Stretching that to 100,000km will require the use of a semi-synthetic:" "No matter what type of lubricant you choose, though, you can be sure of one thing:' says one oil industry executive,"In common with the cost of diesel, the underlying price curve is only heading in one direction and that's up." •