A spate of removals, travelling six-up and taking the family
14th February 2008
Page 47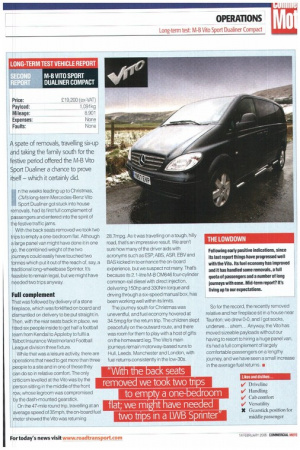 Page 47, 14th February 2008 —
A spate of removals, travelling six-up and taking the family
Close
south for the festive period offered the M-B Vito Sport Dualiner a chance to prove itself — which it certainly did.
In the weeks leading up to Christmas, CMS long-term Mercedes-Benz Vito , Sport Dualiner got stuck into house removals, had its f irst full complement of passengers and entered into the spirit of the festive traffic jams.
With the back seats removed we took two trips to empty a one-bedroom flat. Although a large panel van might have done it in one go, the combined weight of the two journeys could easily have touched two tonnes which put it out of the reach of, say, a traditional long-wheelbase Sprinter. It's feasible to remain legal, but we might have needed two trips anyway.
Full complement
That was followed by delivery of a stone flreplace, which was forklifted on board and dismantled on delivery to be put straight in. Then, with the rear seats back in place, we fitted six people inside to get half a football team from Kendal to Appleby to fulfil a Talbot Insurance Westmorland Football League division three fixture.
While that was a leisure activity, there are operations that need to get more than three people to a site and in one of these they can do so in relative comfort. The only criticism levelled at the Vito was by the person sitting in the middle of the front -ow, whose legroom was compromised by the dash-mounted gearstick.
On the 47-mile round trip, travelling at an average speed of 35mph, the on-board fuel meter showed the Vito was returning 28.7mpg. As it was travelling on a tough, hilly road, that's an impressive result. We aren't sure how many of the driver aids with acronyms such as ESP, ABS, ASR, EBV and BAS kicked in to enhance the on-board experience, but we suspect not many. That's because its 2.1-litre M-B 0M646 four-cylinder common-rail diesel with direct injection, delivering 150hp and 330Nm torque and driving through a six-speed manual box, has been working well within its limits.
The journey south for Christmas was uneventful, and fuel economy hovered at 34.5mpg for the return trip. The children slept peacefully on the outward route, and there was room for them to play with a host of gifts on the homeward leg. The Vito's main journeys remain motorway-based runs to Hull, Leeds, Manchester and London, with fuel returns consistently in the low-30s. So for the record, the recently removed relative and her fireplace sit in a house near Taunton; we drew 0-0, and I got socks, underwe... ahem... Anyway, the Vito has moved sizeable payloads without our having to resort to hiring a huge panel van, it's had a full complement of largely comfortable passengers on a lengthy journey, and we have seen a small increase in the average fuel returns. •