CLOCKING UP THE MILES
14th February 2008
Page 46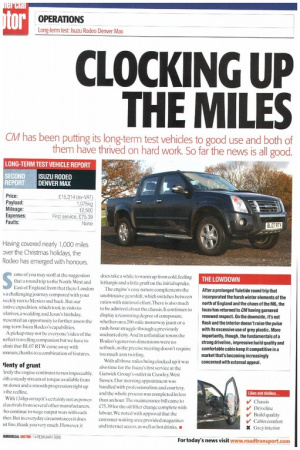 Page 46, 14th February 2008 —
CLOCKING UP THE MILES
Close
CM has been putting its long-term test vehicles to good use and both of
them have thrived on hard work. So far the news is all good.
Having covered nearly 1,000 miles aver the Christmas holidays, the Rodeo has emerged with honours.
Some of you may scoff at the suggestion that a round trip to the North-West and East of England from that there London s a challenging journey compared with your meekly run to Mexico and back. But our 'estive expedition, which took in visits to -datives, a wedding and Jesus's birthday, resented an opportunity to further assess the ong-term Isuzu Rodeo's capabilities.
A pickup may not be everyone's idea of the )erfect travelling companion but we have to idmit that BUR RTW came away with ionours, thanks to a combination of features.
olenty of grunt irstly thc engine continues to run impeccably, vith a steady stream of torque available from Jw down and a smooth progression right up the redline.
With 134hp on tap it's certainly not as poweras rivals from several other manufacturers, /ho continue to wage output wars with each ther. But in everyday circumstances it does tst fine, thank you very much. However, it does take a while to warm up from cold, feeling lethargic and a little gruff on the initial uptake.
The engine's easy nature complements the unobtrusive gearshift, which switches between ratios with minimal effort.There is also much to be admired about the chassis. It continues to display a reassuring degree of composure, whether on a 200-mile motorway jaunt or a rush-hour struggle through a previously uncharted city.And in unfamiliar towns the Rodeo's generous dimensions were no setback, as the precise steering doesn't require too much arm twirling.
With all those miles being clocked up it was also time for the lsuzu's first service at the Gatwick Group's outlet in Crawley,West Sussex. Our morning appointment was handled with professionalism and courtesy, and the whole process was completed in less than an hour.The maintenance bill came to £75.39 for the oil/filter change complete with labour, We noted with approval that the customer waiting area provided magazines and internet access, as well as hot drinks. •