THE MAN FROM HO
14th February 2008
Page 45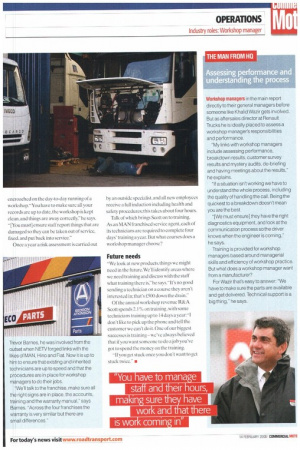 Page 45, 14th February 2008 —
THE MAN FROM HO
Close
Assessing performance and understanding the process
Workshop managers in the main report directly to their general managers before someone like khalid Wazir gets involved. But as aftersales director at Renault Trucks he is ideally placed to assess a workshop manager's responsibilities and performance.
"My links with workshop managers include assessing performance, breakdown results, customer survey results and mystery audits, de-briefing and having meetings about the results," he explains.
"If a situation isn't working we have to understand the whole process, including the quality of handling the call. Being the quickest to a breakdown doesn't mean you are the best.
"[We must ensurel they have the right diagnostics equipment, and look at the communication process so the driver knows when the engineer is coming," he says.
Training is provided for workshop managers based around managerial . skills and efficiency of workshop practice. But what does a workshop manager want from a manufacturer?
For Wazir that's easy to answer: "We have to make sure the parts are available and get delivered. Technical support is a big thing," he says.