THE BUCK STOPS HERE
14th February 2008
Page 44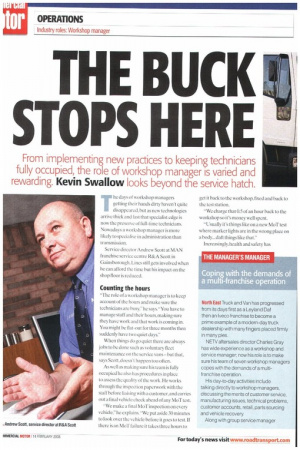 Page 45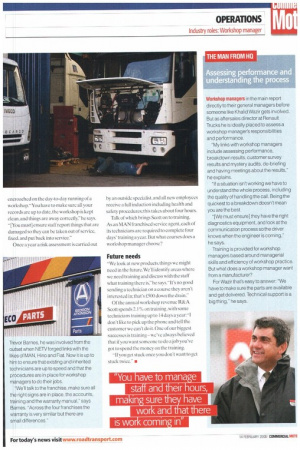 Page 44, 14th February 2008 —
THE BUCK STOPS HERE
Close
From implementing new practices to keeping technicians fully occupied, the role of workshop manager is varied and
rewarding. Kevin Swallow looks beyond the service hatch.
he days of workshop managers getting their hands dirty haven't quite disappeared. but as new technologies arrive thick and fast that specialist edge is now the preserve of full-time technicians. Nowadays a workshop manager is more likely to specialise in administration than transmission.
Service director Andrew Scott at MAN franchise service centre R&A Scott in Gainsborough, Lines still gets involved when he can afford the time but his impact on the shop floor is reduced.
Counting the hours
"lhe role of a workshop manager is to keep account of the hours and make sure the technicians are busy," he says."You have to manage staff and their hours, making sure they have work and that work is coming in. You might be flat-out for three months then suddenly have two quiet days."
When things do go quiet there are always jobs to be done such as voluntary fleet maintenance on the service vans—but that, says Scottdoesn't happen too often.
As well as making sure his team is fully occupied he also has procedures in place to assess the quality of the work. He works through the inspection paperwork with the staff before liaising with a customer, and carries out a final vehicle check ahead of any MoT test.
"We make a final MoT inspection on every vehicle." he explains. 'We put aside 30 minutes to look over the vehicle before it goes to test. If there is an MoT failure it takes three hours to get it back to the workshop,fixed and back to the test station.
-We charge that 0,5 of an hour back to the workshop so it's money well spent.
"Usually it's things like on a new MoT test where marker lights are in the wrong place on a body... daft things like that" Increasingly, health and safety has encroached on the day-to-day running of a workshop." You have to make sure all your records are up to date, the workshop is kept clean, and things are away correctly," he says. "[You must] ensure staff report things that are damaged so they can be taken out of service, fixed, and put back into service."
Once a year a risk assessment is carried out Trevor Barnes, he was involved from the outset when NEW forged links with the likes of MAN, Hino and Fiat. Now it is up to him to ensure that existing and inherited technicians are up to speed and that the procedures are in place for workshop managers to do their jobs.
"We'll talk to the franchise, make sure all the right signs are in place, the accounts, training and the warranty manual,' says Barnes. "Across the four franchises the warranty is very similar but there are small differences." by an outside specialist, and all new employees receive a full induction including health and safety procedures; this takes about four hours, Talk of which brings Scott on to training. As an MAN franchised service agent, each of its technicians are required to complete four days' training a year, But what courses does a workshop manager choose?
Future needs
"We look at new products. things we might need in the future. We'll identify areas where we need training and discuss with the staff what training there is," he says. "It's no good sending a technician on a course they aren't interested in; that's .E500 down the drain."
Of the annual workshop revenue R&A Scott spends 2.1% on training with some technicians training up to 14 days a year:"I don't like to pick up the phone and tell the customer we can't do it. One of our biggest successes is training-we've always believed that if you want someone to do a job you've got to spend the money on the training.
"If you get stuck once you don't want to get stuck twice." •