PIPIPPMERRIMINIM plilarinuntriRitinmonnRil
14th February 2008
Page 44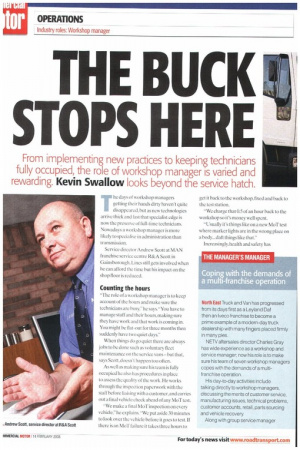 Page 44, 14th February 2008 —
PIPIPPMERRIMINIM plilarinuntriRitinmonnRil
Close
Coping with the demands of a multi-franchise operation
North East Truck and Van has progressed from its days first as a Leyland Daf then an lveco franchise to become a prime example of a modern-day truck dealership with many f ingers placed firmly in many pies.
NEW aftersales director Charles Gray has wide experience as a workshop and service manager; now his role is to make sure his team of seven workshop managers copes with the demands of a multifranchise operation.
His day-to-day activities include talking directly to workshop managers, discussing the merits of customer service, manufacturing issues, technical problems, customer accounts, retail, parts sourcing and vehicle recovery.
Along with group service manager