ARE YOU IN OR OUT?
14th February 2008
Page 38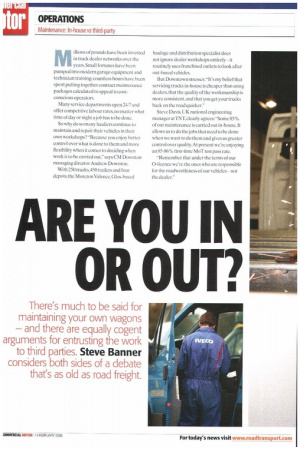 Page 39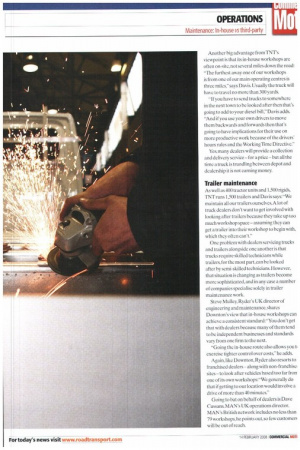 Page 40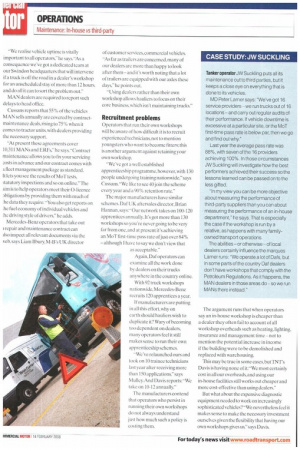 Page 41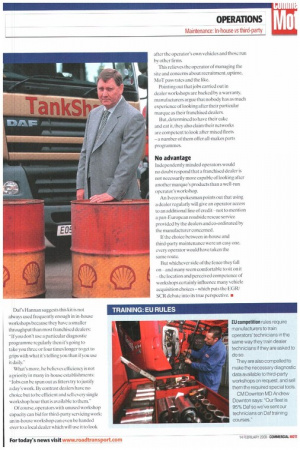 Page 38, 14th February 2008 —
ARE YOU IN OR OUT?
Close
There's much to be said for maintaining your own wagons
— and there are equally cogent
arguments for entrusting the work to third parties. Steve Banner considers both sides of a debate that's as old as road freight.
Millions of pounds have been invested in truck dealer networks over the years. Small fortunes have been pumped into modern garage equipment and technician training: countless hours have been spent putting together contract maintenance packages calculated to appeal to costconscious operators.
Many service departments open 24/7 and offer competitive labour rates, no matter what time of day or night a job has to be done.
So why do so many hauliers continue to maintain and repair their vehicles in their own workshops?"Because you enjoy better control over what is done to them and more flexibility when it comes to deciding when work is to be carried out," says CM Downton managing director Andrew Downton, With 250 trucks, 450 trailers and four depots. the Moreton Valence, Glos-based haulage and distribution specialist does not ignore dealer workshops entirely it routinely uses franchised outlets to look after out-based vehicles.
But Downtown stresses:"It's my belief that servicing trucks in-house is cheaper than using dealers, that the quality of the workmanship is more consistent, and that you get your trucks back on the road quicker."
Steve Davis, UK national engineering manager at TNT, clearly agrees:"Some 85% of our maintenance is carried out in-house. It allows us to do the jobs that need lobe done when we want to do them and gives us greater control over quality.At present we're enjoying an 85-86% first-time MoT test pass rate.
-Remember that under the terms of our 0-licence we're the ones who are responsible for the roadworthiness of our vehicles -not the dealer. Another big advantage from TNT's viewpoint is that its in-house workshops are often on-site, not several miles down the road: "The furthest away one of our workshops is from one of our main operating centres is three miles,says Davis. Usually the truck will have to travel no more than 300 yards.
"If you have to send trucks to somewhere in the next town to be looked after then that's going to add to your diesel bill," Davis adds, "And if you use your own drivers to move them backwards and forwards then that's going to have implications for their use on more productive work because of the drivers' hours rules and the Working'Time Directive."
Yes, many dealers will provide a collection and delivery service -for a pricebut all the time a truck is trundling between depot and dealership it is not earning money.
Trailer maintenance As well as 400 tractor units and 1,500 rigids, TNT runs 1,500 trailers and Davis says:-We maintain all our trailers ourselves.A lot of truck dealers don't want to get involved with looking after trailers because they take up too much workshop spaceassuming they can get a trailer into their workshop to begin with, which they often can't."
One problem with dealers servicing trucks and trailers alongside one another is that trucks require skilled technicians while trailers, for the most part, can be looked after by semi-skilled technicians. However. that situation is changing as trailers become more sophisticated, and in any case a number of companies specialise solely in trailer maintenance work.
Steve Mulley, Ryder's UK director of engineering and maintenance. shares Downton's view that in-house workshops can achieve a consistent standard: "You don't get that with dealers because many of them tend to be independent businesses and standards vary from one firm to the next.
"Going the in-house route also allows you t. exercise tighter control over costs," he adds.
Again, like Downton, Ryder also resorts to franchised dealers along with non-franchise, sites to look after vehicles based too far frorr one of its own workshops: "We generally do that if getting to our location would involve a drive of more than 40 minutes."
Going to bat on behalf of dealers is Dave Cussans,MAN's UK operations director. MAN's British network includes no less than 79 workshops. he points out,so few customers will be out of reach. We realise vehicle uptime is vitally important to all operators," he says "As a consequence we've got a dedicated team at our Swindon headquarters that will intervene if a truck is off the road in a dealer's workshop for an unscheduled stay of more than 12 hours. and do all it can to sort the problem out."
MAN dealers are required to report such delays to head office.
Cussans reports that 55% of the vehicles MAN sells annually are covered by contractmaintenance deals, rising to 75% when it comes to tractor units, with dealers providing the necessary support.
"At present these agreements cover 10,311 MANs and ERFs," he says. "Contract maintenance allows you to fix your servicing osts in advance and our contract comes with a fleet management package as standard. It lets you see the results of MoT tests, itatutory inspections and so on online."The :tim is to help operators meet their 0-licence Dbligations by providing them with much of :he data they require. "You also get reports on he fuel economy of individual vehicles and he driving style of drivers," he adds Mercedes-Benz operators that take out I repair and maintenance contract can tlso inspect all relevant documents via the veb,says Liam Ilbury, M-B's UK director of customer services, commercial vehicles. "As far as trailers are concerned, many of our dealers are more than happy to look after them —and it's worth noting that a lot of trailers are equipped with our axles these days." he points out.
"Using dealers rather than their own workshop allows hauliers to focus on their core business, which isn't maintaining trucks."
Recruitment problems
Operators that run their own workshops will be aware of how difficult it is to recruit experienced tech nicians, not to mention youngsters who want to become fitters; this is another argument against retaining your own workshop.
"We've got a well established apprenticeship programme, however, with 130 people undergoing training nationwide." says Cussans."We like to see 40 join the scheme every year and a 90% retention rate." The major manufacturers have similar schemes. Daf UK aftersales director, Brian Hannan, says: "Our network takes on 100-120 apprentices annually. It's got more than 130 workshops so you're never going to be very far from one,and at present it's achieving an MoT first-time pass rate of just over 84% — although I have to say we don't view that as acceptable."
Again,Daf operators can examine all the work done by dealers on their trucks anywhere in the country online.
With 92 truck workshops nationwide, Mercedes-Benz recruits 120 apprentices a year.
If manufacturers are putting in all this effort, why on earth should hauliers wish to duplicate it'? Wary of becoming too dependent on dealers, many operators feel it still makes sense to run their own apprenticeship schemes.
"We've relaunched ours and took on 10 trainee technicians last year after receiving more than 150 applications," says Mulley. And Davis reports:"We take on 10-12 annually."
The manufacturers contend that operators who persist in running their own workshops do not always understand just how much such a policy is costing them, The argument runs that when operators say an in-house workshop is cheaper than a dealer they often fail to account of all workshop overheads such as heating, lighting, insurance and management time — not to mention the potential increase in income if the building were to be demolished and replaced with warehousing.
This may be true in some cases, but TNT's Davis is having none of it:"We most certainly cost in all our overheadsand using our in-house facilities still works out cheaper and more cost-effective than using dealers" But what about the expensive diagnostic equipment needed to work on increasingly sophisticated vehicles? "We nevertheless feel it makes sense to make the necessary investment ourselves given the flexibility that having our own workshops gives us," says Davis. Dafs Hannan suggests this kit is not always used frequently enough in in-house workshops because they have a smaller throughput than most franchised dealers: -I I you don't use a particular diagnostic programme regularly then it's going to take you three or four times longer to gel to grips with what it's telling you than if you use it daily."
What's more, he believes efficiency is not a priority in many in-house establishments: "Jobs can be spun out as fitters try to justify a day's work. By contrast dealers have no choice but to be efficient and sell every single workshop hour that is available to them."
Of course, operators with unused workshop capacity can bid for third-party servicing work: an in-house workshop can even be handed over to a local dealer which will use it to look after the operator's own vehicles and those run by other firms.
This relieves the operator of managing the site and concerns about recruitment, uptime. MoT pass rates and the like.
Pointing out that jobs carried out in dealer workshops are backed by a warranty, manufacturers argue that nobody has as much experience of looking after their particular marque as their franchised dealers.
But,determined to have their cake and eat it,they also claim their networks are competent to look after mixed fleets a number of them offer all-makes parts programmes.
No advantage
Independently minded operators would no doubt respond that a franchised dealer is not necessarily more capable of looking after another marque's products than a well-run operator's workshop.
An Iveco spokesman points out that using a dealer regularly will give an operator access loan additional line of credit -not to mention a pan-European roadside rescue service provided by the dealers and co-ordinated by the manufacturer concerned.
If the choice between in-house and third-party maintenance were an easy one, every operator would have taken the same route.
But whichever side of the fence they fall on -and many seem comfortable to sit on it the location and perceived competence of workshops certainly influence many vehicle acquisition choices which puts the EGR/ SCR debate into its true perspective. •