julian Mi!nes has the final word We knew Fiats Multijet
14th February 2008
Page 37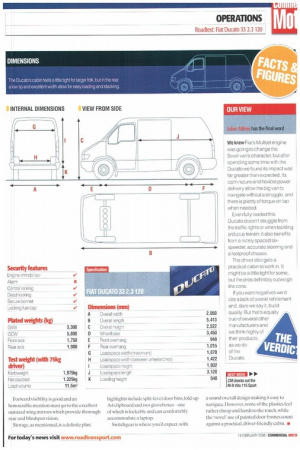 Page 37, 14th February 2008 —
julian Mi!nes has the final word We knew Fiats Multijet
Close
engine was going to change the Sevel van's character, but after spending some time with the Ducato we found its impact was far greater than expected. Its calm nature and flexible power delivery allow the big van to navigate without a struggle, and there is plenty of torque on tap when needed.
Even fully loaded this
Ducato doesn't struggle from the traffic lights or when tackling arduous terrain; it also benefits from a nicely spaced sixspeeder, accurate steering and a foolproof chassis.
The driver also gets a
practical cabin to work in. It might be a little tight for some, but the pros definitely outweigh the cons.
If you want negatives we'd cite a lack of overall refinement and, dare we say it, build quality. But that's equally true of several other manufacturers and we think highly of their products, as we do / of the Ducato.