F or some people the idea of buying a Fiat is
14th February 2008
Page 34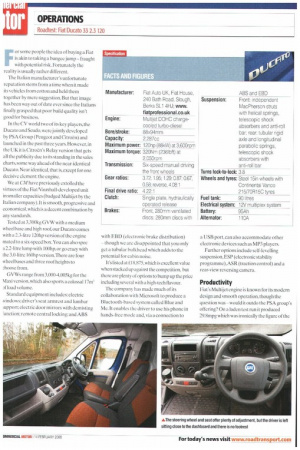 Page 35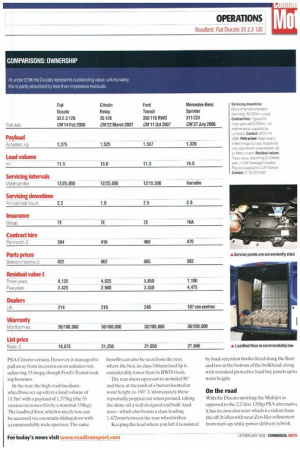 Page 36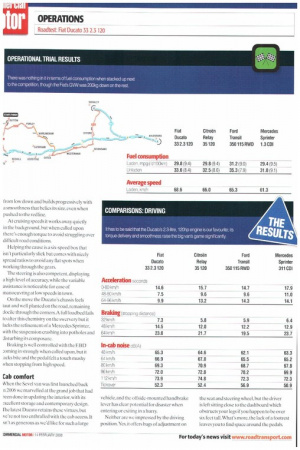 Page 37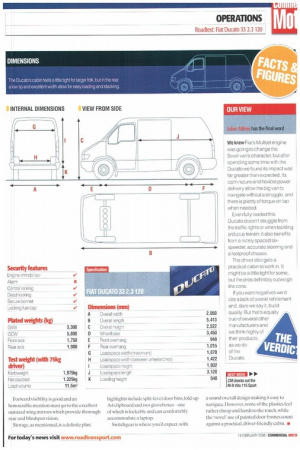 Page 34, 14th February 2008 —
F or some people the idea of buying a Fiat is
Close
akin to taking a bungee jump-fraught with potential risk. Fortunately the reality is usually rather different.
The Italian manufacturer's unfortunate reputation stems from a time when it made its vehicles from cotton and held them together by mere suggestion. But that image has been way out of date ever since the Italians finally grasped that poor build quality isn't good for business.
In the CV world two of its key players, the Ducato and Scudo. were jointly developed by PSA Group (Peugeot and Citroen) and launched in the past three years. However, in the UK it is Citroen's Relay version that gets all the publicity due to its standing in the sales charts, some way ahead of the near-identical Ducato. Near identical, that is, except for one decisive element: the engine.
We at CM have previously extolled the virtues of the Fiat/Vauxhall-developed unit in smaller capacities (badged Multijet by the Italian company). It is smooth, progressive and economical, which is a decent combination by any standards.
Tested at 3,300kg GVW with a medium wheelbase and high roof,our Ducato comes with a 2.3-litre 120hp version of the engine mated to a six-speed box.You can also spec a 2.2-litre lump with 100hp, or go crazy with the 3.0-litre 160hp version:There are four wheelbases and three roof heights to :hc)ose from.
GVWs range from 3,000-4,005kg for the Maxi version, which also sports a colossal I 7rn3 3f load volume.
Standard equipment includes: electric Nindows: driver's seat armrest and lumbar ;upport; electric door mirrors with demisting 'unction: remote central locking; and ABS with EBD (electronic brake distribution) though we are disappointed that you only get a tubular bulkhead which adds to the potential for cabin noise.
It's listed at £18,875,which is excellent value when stacked up against the competition, but there are plenty of options to bump up the price including several with a high-tech flavour.
The company has made much of its collaboration with Microsoft to produce a Bluetooth-based system called Blue and Me. It enables the driver to use his phone in hands-free mode and, via a connection to a USB port, can also accommodate other electronic devices such as M P3 players.
Further options include self-levelling suspension, ESP (electronic stability programme),ASR (traction control) and a rear-view reversing camera.
Productivity
Fiat's Multijet engine is known for its modem design and smooth operation, though the question was would it outdo the PSA group's offering? On a laden test run it produced 29.8mpg which was ironically the figure of the PSA Citroen version, However, it managed to pull away from its cousin on an unladen run, achieving 33.6mpg, though Ford's Transit took top honours.
In the rear, the high-roof/mediumwheelbase set-up offers a load volume of 11.5m3 with a payload of 1,375kg (the 35 version increases this by a nominal 150kg). The loadbed floor, which is nicely low, can he accessed via a nearside sliding door with a commendably wide aperture.The same benefits can also be seen from the rear, where the best-in-class 540mm load lip is considerably lower than its RWD rivals.
The rear doors open out to an initial 90' and then. at the push of a button located at waist height, to 180°. Unfortunately these repeatedly popped out when pressed, taking the shine off a well designed and built load area — which also boasts a class-leading 1,422mm between the rear wheelarches.
Keeping the load where you left it is assisted by load-retention hooks filled along the floor and two at the bottom of the bulkhead, along with standard protective load bay panels up to waist height.
On the road
With the Ducato sporting the Multijet as opposed to the 2.2-litre 120hp PSA alternative it has its own character which is evident from the off. It idles with near Zen-like refinement from start-up, while power delivery is brisk from lowdown and builds progressively with a smoothness that belies its size. even when pushed to the redline.
At cruising speeds it works away quietly in the background, but when called upon there's enough torque to avoid struggling over difficult road conditions.
Helping the cause is a six-speed box that isn't particularly slick but comes with nicely spread ratios to avoid any fiat spots when working through the gears.
The steering is also competent,displaying a high level of accuracy, while the variable assistance is noticeable for ease of manoeuvring at low speeds in town.
On the move the Ducato's chassis feels taut and well planted on the road, remain ing docile through the corners. A full loadbed fails to alter this chemistry on the swervery but it lacks the refinement of a Mercedes Sprinter, with the suspension crashing into potholes and disturbing its composure.
Braking is well controlled with the EBD coming in strongly when called upon, hut it .acks bite and the pedal felt a touch mushy ,vhen stopping from high speed.
Cab comfort
When the Sevel van was first launched back n 2006 we marvelled at the grand job that had )een done in updating the interior, with its :Acellent storage and contemporary design. l'he latest Ducato retains these virtues, but ve're not too enthralled with the cab access. It sn't as generous as we'd like for such a large vehicle, and the offside-mounted handbrake lever has clear potential for disaster when entering or exiting in a hurry.
Neither are we impressed by the driving position. Yes, it offers bags of adjustment on the seat and steering wheel,hut the driver is left sitting close to the dashboard which obstructs your legs if you happen to be over six feet tall.What's more, the lack of a footrest leaves you to find space around the pedals. Forward visibility is good and an honourable mention must go to the excellent outsized wing mirrors which provide thorough rear and blindspot vision.
Storage, as mentioned, is a definite plus; highlights include split-level door bins, fold-up A4 clipboard and two gloveboxes— one of which is lockable and can comfortably accommodate a laptop.
Switchgear is where you'd expect, with a sound overall design making it easy to navigate. Howeve r, some of the plastics feel rather cheap and harsh to the touch, while the 'novel' use of painted door frames count against a practical, driver-friendly cabin. •